This site uses cookies. By continuing to use this site, you are agreeing to our use of cookies.

Learn More.

Squidboards now has its own Discord server!

Welcome to SquidBoards, the largest forum dedicated to Splatoon! Over 15,000 Splatoon fans from around the world have come to discuss this fantastic game with over 150,000 posts!

You are currently viewing our boards as a visitor. Click here to sign up right now and start on your path in the Splatoon community!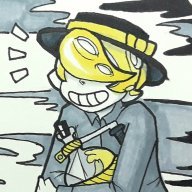 Gender:

Female

Birthday:

Nov 15, 1998

(Age: 22)

Home Page:

Location:

Occupation:

i draw and suffer (student)
Aykorn
Inkling Commander, Female, 22, from WA
Whooo, it's my birthday! I'm older nowwwww Nov 15, 2017
Aykorn was last seen:

Jun 20, 2019
Loading...

Loading...

About

Gender:

Female

Birthday:

Nov 15, 1998 (Age: 22)

Home Page:

Location:

Occupation:

i draw and suffer (student)

Hello, I'm A(y)korn or Ammy.

I mostly lurk within the RP square's Missing thread. You can also find me lurking on tumblr.

I am

actually

active on discord if you ever want to DM for my tag or just in general. I'm a bit shy behind the sarcasm, but feel free to talk or message me. If you wanna ask stuff about my art or my squids or myself, feel free to do that, too.


Timezone:

PST/UTC-8

Splatoon 2:

I play Splatoon 2 a bunch.

My Switch Friend Code is SW-5939-8938-2753. Feel free to add me, but please let me know if you friend me via code, or I will be super confused.


Splatoon 1:

(My I don't use my WiiU much anymore. This is old.)

My NNID is A_korn and I'll show up as Ammy.

My alt. account is SkwidKid and that'll appear as 2fresh4u.

I got Splatoon the day it was released and I've been very obsessed with the game. Totally worth being judged by the Target cashier.

Pronouns:

She/Her

Orientation:

Aromantic/Asexual

Art Program + Tablet:

Clip Studio Paint Pro + a Wacom Bamboo Pen Tablet

Stuff I like:

Drawing, Video games (especially JRPGs), Fanfiction, Tea and other hot drinks, Coding, Martial arts, FIRST robotics, STEM stuff in general, Marine biology, Data analytics, Webcomics, Indie RPGs

Stuff I'm interested in/Fandoms I'll get the references for:

Games:

Splatoon (2), Octopath Traveler

, VA-11 Hall-A, Xenoblade Chronicles (X & 2), Etrian Oddyssey, Pokemon SM, Mother/EB, FE:A & Fates, Animal Crossing, Bravely Default/Second, Persona 5, Paper Mario Series

Other medias:

Avatar the Last Airbender, My Hero Academia, Steven Universe

, Miraculous Ladybug, The Adventure Zone, Hamilton, Homestuck, Red vs Blue, Studio Ghibli films, Fullmetal Alchemist, Kill La Kill, Cardcaptor Sakura

Picarto Channel: https://picarto.tv/Akorn Miiverse: https://miiverse.nintendo.net/users/A_korn/posts

Interact

Content:

NNID:

A_korn

Switch Friend Code:

SW-5939-8938-2753

Signature

Maaan i gotta come up with a new signature, my old one is outdated as heck

Loading...