This site uses cookies. By continuing to use this site, you are agreeing to our use of cookies.

Learn More.

Squidboards now has its own Discord server!

Welcome to SquidBoards, the largest forum dedicated to Splatoon! Over 15,000 Splatoon fans from around the world have come to discuss this fantastic game with over 150,000 posts!

You are currently viewing our boards as a visitor. Click here to sign up right now and start on your path in the Splatoon community!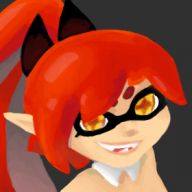 Gender:

Female

Birthday:

Aug 6, 1998

(Age: 22)

Home Page:

Location:

Occupation:

Student, art hobbyist
FairyJinx
Inkling, Female, 22, from Rocky Mountains
tbh i dont bother with grammar and punctuation unless i have to look professional its my aesthetic Nov 2, 2015
FairyJinx was last seen:

Mar 10, 2016
Loading...

Loading...

About

Gender:

Female

Birthday:

Aug 6, 1998 (Age: 22)

Home Page:

Location:

Occupation:

Student, art hobbyist

Hello, I'm FairyJinx/Rentozu! I recently started going by Fairy Jinx (or just "Jinx" for short) but I used to call myself Rentozu so you may still see me with that name.

I'm currently a senior in high school and I'm also juggling work and demanding parents on top of that, so I don't have very much time for Splatoon but I would dare to say that I'm rather good at it, my rank averages an A- but it does fluctuate.

I'm an aspiring artist and I really enjoy drawing squid kids in my spare time because of how cute and stylish they are. <3

I have a waifu named Kilee who is the love of my life. <3
We are really gay for each other...but in a friend way, if that makes sense?? (They have a "boyfriend" who is their problematic fave. We call him The Punk but his real name is Benn.)

And in case you haven't already picked it up, I am absolute weeaboo trash.
"Arigato for nothing, baka." (-How Weebs Break Up)

If you're into this stuff, my mtbi type is an INFP.
Also I am a Leo sun and Capricorn moon.

Have fun, fellow squids.

Signature

geeettttttt dunked on!!!

​

Loading...