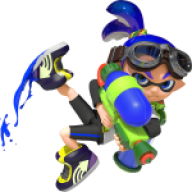 Meechy2000
Inkling, Male
I just need some time to talk to people.You know? Aug 3, 2015
Meechy2000 was last seen:

Mar 11, 2016
Loading...

Loading...

About

I'm kind,i like Kirby,I love splatoon,I have a new nintendo 3DsXL,i have a group called the squid squad,I like to sing and thats about it.Nothing much.

I'm a level 41

i'm a A rank right now.

I'm good with tri slosher in tower control

i'm good with 56 gal in rainmaker

i'm good with carbon roller in splat sones

My splatfest results:

Cat vs Dogs:team cat.

Roller coasters vs water slides:team water slides

Marshmelllows vs hotdogs:team marshmellows

Autobots vs Decepticons:team Autobots

Art vs science:team science

Cars vs planes:team planes

Pirates vs Ninjas:team Ninjas

naughty vs.nice:team nice

Wins1 loses:7

Interact

Content:

NNID:

DemetriusM917

Loading...