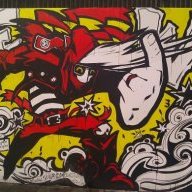 shani
Semi-Pro Squid, Male, from Germany
shani was last seen:

Feb 6, 2018
Loading...

Loading...

About

Am I a kid or a squid or just a Splatoon nerd?

Started gaming 1989 with my Gameboy and had every Big N home console since the SNES. Wii U + PC is the perfect combination for me.

Currently extremely interested in comics (mostly but not only DC) while my interest in sports is declining.

And of course, Splatoon.

Signature

Rank:

S

Level

:

50

Mains

:

Custom Jet Squelcher, N-ZAP '83, Dual Squelcher, N-ZAP '85, L-3 Nozzlenose D, Splattershot Pro, Custom Splattershot Pro, Berry Splattershot Pro and a lot more...

Playtime:

634 hours

NNID:

shani_ace

Loading...