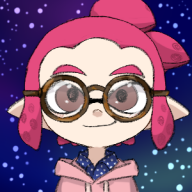 Birthday:

May 15, 1998

(Age: 21)

Location:

Occupation:

Student
SilverBrick
Pro Squid, 21, from UK
SilverBrick was last seen:

May 7, 2019
Loading...

Loading...

About

Birthday:

May 15, 1998 (Age: 21)

Location:

Occupation:

Student

Roller "main"

Name: Jamie Jean [No Surname Given]
Age: 20 (although I keep thinking I'm 18)
Gender: Non-binary
Sexuality: Pan
Career status: Going to Uni for Games Design
Career goal: Making weird but cool Indie games
MBTI Type: INFP
Physical issues: Ehlers Danlos Syndrome, Pigeon chest, possible scarred lung
Mental issues: Aspergers, the whole gender thing, possible ADHD, addiction to procrastination
AMA rules: Don't expect me to answer if the info is especially personal. Otherwise, ask away!

Name: Jamie
Species: Octoling
Gender: Girl
Hair: Ponytail
Pants: Yoga pants
Favorite outfit: Full-moon Glasses, Pink Hoodie, Choco Clogs
Signature item: Full-moon Glasses
Level: 61(?)
Started: Sometime in the middle of Splatoon 1

Ranks:
Splat Zones: S+6
Rainmaker: S+2/3 (highest S+5)
Tower Control: S+1
Clam Blitz: Heck if I know

My strongest weapons:

Inkbrush (Vanilla)
Flingza (Vanilla)
Carbon (Vanilla)
Dynamo (Gold, Kensa)
Splatterscope (Kensa, Vanilla)
Bamboozler (Mk I)
Undercover Brella (Kensa, Vanilla)

Other weapons I can use well:

Splash-o-matic (Vanilla)
Octoshot
52 Gal (Vanilla)
96 Gal (Deco)
Jet Squelcher (Vanilla)
H-3 Nozzlenose (Vanilla)
Splat Dualies (Vanilla)
Dualie Squelchers (Vanilla)
Dapple Dualies (Nouveau)
Tenta Brella (Sorella)
Mini Splatling (Vanilla)
Ballpoint Splatling (Vanilla)

Favorite Subs:

Splat Bomb
Splash Wall

Favorite Specials:

Splashdown
Splat Bomb Rush

Favorite Gear:

Swim Speed Up
Quick Super Jump
Special Charge Up

Interact

Content:

NNID:

SilverBrick

Signature

See my main page for stuff about me

Loading...

Loading...