This site uses cookies. By continuing to use this site, you are agreeing to our use of cookies.

Learn More.

Squidboards now has its own Discord server!

Welcome to SquidBoards, the largest forum dedicated to Splatoon! Over 15,000 Splatoon fans from around the world have come to discuss this fantastic game with over 150,000 posts!

You are currently viewing our boards as a visitor. Click here to sign up right now and start on your path in the Splatoon community!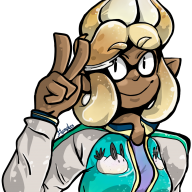 Gender:

Female

Birthday:

May 15, 1998

(Age: 22)
Sqwiddles
Pro Squid, Female, 22
Oh damn, I'm back? I'm sure no one wanted this :^) Jul 6, 2017
Sqwiddles was last seen:

Apr 24, 2018
Loading...

Loading...

About

Gender:

Female

Birthday:

May 15, 1998 (Age: 22)

There's really not much to talk about myself here except on the game I can be

known as CuddleWeen, Papa Omega, or, Papi Reyes.

Well- I change my name a lot actually. Whoops.

I main an Inkbrush and Octobrush (Mostly the Octobrush), cus they're the best weapon out there. I unno 'bout you but if you ain't playin' 'em, what's wrong with ya? LMFAO

On my main account: Level 50, S+ 40

Side account [CuddleWeen] S+87

You can contact me on Skype if ya want (Mochaplurff). I don't know why in HELL you would want to but w/e.

Interact

Content:

NNID:

PheenieWeen

Skype:

Mochaplurff

Signature

Callie-squidpai is the reason why anything is possible. Nhgyes!

​

A little Brushie user who's a S+ rank ​

Loading...