This site uses cookies. By continuing to use this site, you are agreeing to our use of cookies.

Learn More.

Squidboards now has its own Discord server!

Welcome to SquidBoards, the largest forum dedicated to Splatoon! Over 15,000 Splatoon fans from around the world have come to discuss this fantastic game with over 150,000 posts!

You are currently viewing our boards as a visitor. Click here to sign up right now and start on your path in the Splatoon community!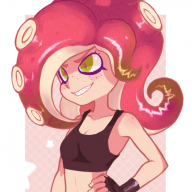 Gender:

Male

Birthday:

Jun 9, 1995

(Age: 25)
Loading...

Loading...

About

Gender:

Male

Birthday:

Jun 9, 1995 (Age: 25)

Signature

Weapons I use: Octoshot Replica, Splattershot Jr, Custom Splattershot Jr, Zink Mini Splatling, Heavy Splatling, Heavy Splatling Deco, Classic Squiffer, New Squiffer, N-Zap '85, Octobrush, Slosher, Tri-Slosher, Carbon Roller, Dual Squelcher, Custom Jet Squelcher, Dynamo Roller, Gold Dynamo Roller, Neo Sploosh-o-matic, Hero Charger Replica, Kelp Splat Charger, L-3 Nozzlenose D, .52 Gal, .52 Gal Deco, .96 Gal Deco, Krak-On Splat Roller, Custom Range Blaster, Splash o Matic, Aerospray MG, and Blaster.
Rank:S
Level:43
Sloshing Machine, Hydra Splatling, and H-3 Nozzlenose all need to get buffed if you ask me. Much more range for the Sloshing Machine, less charge time for the Hydra Splatling (it takes longer than an E Liter!), and better fire rate for the H-3 Nozzlenose. Come on, I want to like these weapons but they are out classed.

Loading...