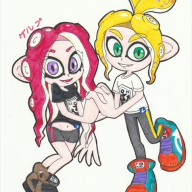 Joined

May 1, 2018
Messages

1,427
Location
The Octarian neighborhood (can become its own town if an abandoned section of Inkopolis becomes bigger) is a traditional Octarian settlement. Octolings are highly valued to the point where a king and queen of sorts is placed at the very top, but this settlement is also a safe place for the other Octarians. Visitors from other species are allowed to, well visit, but they don't get permission to actually live there. This is because the Octarian neighborhood also serves as a center for research and development for Octarian society that will eventually migrate to the surface.

There are examples of research and development like breeding Zapfish, repelling water waves, and creating transparent ink that can be swam into by any cephalopod regardless of ink color. Interference with those things are highly intolerable and as such, the neighborhood have it's own set of laws separate from Inkopolis itself. Despite all of this, there is actually a lot more freedom in the neighborhood walls than an outsider might think. An Octoling or Octarian can live there for free as long as they provide funds for the neighborhood itself since research and development require funds to move forward. Living there for free is possible due to the Octarians there already having developed a way to combine oxygen and hydrogen to create infinite water as well as using any sort of energy production method that doesn't involve burning anything to create it, so a positive side effect being that there are no pollutants created from energy production.

Octolings in that neighborhood are seen as potential parents for future generations so the Octarian species can keep going. The Octoling king and queen are from opposite Octarian species that actually used to be one Octarian species originally: the Ringed Octarians and the Crimson Octarians. Octolings from these two species who crossbreed with the other half are eventually blessed with an Octoling child who has a very high chance at succeeding in life due to the recombination of the two genes that were split apart. Unknown to most, this will spark the inevitable end of separate gene Octarians while the recombined Octarians will be the only ones of these two species left. But those that do know understand that this needs to happen to avoid division of their society.
Last edited: