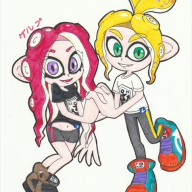 Joined

May 1, 2018
Messages

1,118
When we sleep, we can get visions whether they are possible or impossible. I'll just share mine since I do have a knack of being able to remember them, but I only had three of them so far.

The first one would be a cool game mechanic, the mechanic in question is that in multiplayer matches, you would be able to summon Octarians to guard a part of the stage that you don't want the opposing team going into. The example shown in my dream was an Octotrooper who noticed an enemy player and started shooting at that player. However, I believe this mechanic could be used for a different version of Salmon Run instead.

The next two are sort of weird, this next one is even shorter, so I'll just summarize that in this one, I had an Inkling girlfriend. In speaking of having a Splatoon girlfriend, the final one that I had so far instead Marina was my girlfriend.

Again, dreams can be unpredictable on what it is about. One dream would be chasing a fish underwater, the next thing you know, you would be facing a T-Rex.