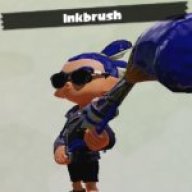 Joined

Jun 9, 2015
Messages

13
zeph-the-blue submitted a new guide:
Be an Artist: Inkbrush Stage Guide and Tips
- Learning how and where to use the inkbrush is essential if you want to learn this weapon.
Hi, I'm Zeph the Blue, and I'm currently an S rank brusher player. I decided to make this guide to help fellow brushers out with the current meta of shooters. In the right hands, a brush can be a deadly weapon of mass inkage.

The inkbrush is a very interesting weapon. Although it falls under the roller category, it plays unlike any other weapon in the game. This brush was designed to paint over large areas with ease, as well as...
Read more about this guide...