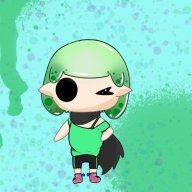 Joined

Jul 30, 2017
Messages

216
Location
Switch Friend Code

SW-2325-6454-5517
The sun peaks over the horizon, starting a new day in inkopolis. You wake up to your alarm going off at 10:00AM sharp. You stretch and take a minute to wake up before getting ready for the day. An alert goes off on your squidphone that you have a match at 11:00AM. Finally you walk out and start a new day in Inkopolis.

This RP, (name still in development), is about a group of inklings/octolings that have incredible abilities that only they know about. But this isn't solely about their strengths. It's also about the drawbacks of those abilities that affect of their everyday lives.
Now this RP starts first by have the people wake up and go throughout their day (for character development time) before being put with or against each other in a turf war. During this match, they may or may not show their abilities/weaknesses, depending on what that is. The story after that is up to whatever people think of.
Characters will need to have at least one strength and one weakness. The strength can be most of whatever you want, but just don't put something that's OP/godmoding. The weakness doesn't have to be a terrible deformity or whatnot, but you can if you want. It just has to be something that's interesting narrative. I'll decide what is fine, but I'll be pretty chill.
Character sheets
Name:
Species:
Ink color:
Appearance:
Backstory:
Strength:
Weakness:
Let me know if I should add anything else
Also what should the name be for the RP