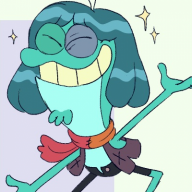 Joined

May 4, 2022
Messages

3
Switch Friend Code

SW-3230-4299-0915
*ahem*
Name's Jake, I've been playing Splatoon 2 as of recently to prepare for 3, but I figured that now would be better than ever to make a team that will last through the last of 2 and into 3, and not only that, this team is the perfect mix of casual and competitive! We all get an amazing chance to know each other, and we learn from each other as well as teach each other as we see each other's mistakes and what we can try out in order to improve and evolve our unique skillsets! We are a very open team, and we are constantly growing!

Requirements:
At least level 10, and 1 b rank for league and rank
Also discord or way of direct text required (Jake_Ghostdude#6561)

Preferences:
A timezone preferably somewhere in North or South America, though will accept people in other time zones who are up to working around the inconvienience.
Knowledge of callouts, though voice chat is not required nor used at the moment

Team Goals: Simply to learn and grow with each other; the team is looking for mainly people who are A+ or higher who need help learning though we accept anybody, and we are accepting high level x rank players to act as team mentors!

If you are interested at all, feel free to respond in the thread, dm me directly through discord, or add me as a friend on switch! Also, if you have a specific way of texting you'd like to use as a replacement for discord, let me know in the thread!