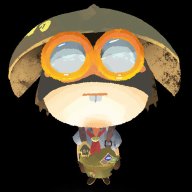 Joined

May 9, 2020
Messages

36
NNID

elbowtross256
Switch Friend Code

SW-2068-8505-2901
As the second Splatfest this season, as well as tomorrow's Direct, rolls around the corner. The new season announcement is soon to follow. So I have to ask. What do you think we could see this time around?

A few guesses for me would be the reintroduction of League mode, and finally implementing PvP Tableturf battles. Both have been teased before and I could very likely see this happening this season. Especially Tableturf as that mode is dying for online multiplayer. I remember Nintendo mentioning back in august as well that League would be a lil' different this time. Something about it being a mode that alters battles in a way to make things more interesting. A less competitive mode I'd guess.

A new stage is also pretty much guaranteed. As for a returning one? Probably a stage from Splatoon 2. This isn't a likely prediction, but I would love to see The Reef brought back. It was my favorite in 2 and I'd be through the roof to get it back. Even if we'd get it a later season. Although with my luck we'll see Musselforge Fitness again, bleugh... For some new weapons? I and most other people will guess a new Stringer and Splatana. What would these weapons do? I don't have a clue. Maybe some of you can offer your own ideas.

Because of the Nintendo Direct tomorrow I would like to remind people that Splatoon 3 has a paid DLC in the works. Y'know the point in the video where Pearl and Marina's silhouettes were displayed. I'm not going to say that it will be shown off, but It feels like it would make a lot of sense to do it then. Although who knows? Maybe Nintendo doesn't have much progress on it and isn't showcasing it until later this year. Still something to look forward too as in my opinion Splatoon single player content has been getting better with each new addition. (If you ignore Octo Canyon lol)

So yeah, share your thoughts as I'm eager to see what you want with the new season.

edit: The direct did show off DLC, but not the Spring Season. Oh well, just wait til' Monday probably.
Last edited: