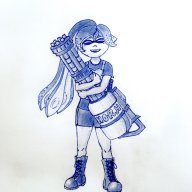 Joined

Dec 31, 2015
Messages

34
I thought it'd be fun to have a thread to discuss and debate some headcanons or other ideas we've come up with for ourselves to explain how this weird world of Splatoon works. There was an old thread that did pretty much the same thing, but it's kinda dead, so maybe this will kick up discussion.

As for my own headcanon, I think Inklings become adults at 14 when they're able to fully transform (on average). They just grow up faster than Humans. I'd even be willing to wager they set 14 as the legal age of suffrage/consent in whatever society Inkopolis is located.

Think about it, the celebrities we know like the SS and OTH are usually stated to be older than the player character by years. But they never actually look older whilst a Human at 14 is only just starting puberty. And we've never seen Inkling 'adults', we just assume they exist based on the squid/kid terminology. In world though, evidence seems to point towards the player character being as mature as Inklings ever appear.

They might even have a shorter lifespan in general judging by how young both the average Inkling and the general population seem compared to Humans. (not sure how to rectify that with Cap'n Cuttlefish though, but he may just be the exception judging by the distinct lack of other 'senior' Ink/Octolings) Based on what we can actually observe, I think the more rational assumption is that they just use the term 'kid' in place of 'humanoid'.