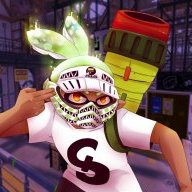 Joined

Jun 9, 2015
Messages

719
Location
NNID

JStaleknight
Switch Friend Code

SW-1169-3473-1031
As of 9 PM EST today, the Heavy Splatling Deco has landed. Here are the stats for this weapon according to Inkipedia:
Level Unlocked:
9
Cost:
9200
Base Damage:
28-ish (based on the stats for the regular Heavy Splatling)
Range:
78/100
Charge Rate:
40/100
Mobility:
50/100
Sub:
Point Sensor
Special:
Kraken
Basically, it's a different type of Heavy Splatling. While it lacks the safety barrier of the Splash Wall and the tactical power of the Inkstrike, it's still deadly in the hands of someone who knows how to hunt people down with the Point Sensor and pull off a surprise Kraken in a pinch. And of course it's got great range and damage potential just like its undecorated twin.
So, what are your thoughts on the weapon? Personally, I find it just as good if not better than the Heavy Splatling so far. The Point Sensors allow me to keep tabs on people who don't have Cold-Blooded, allowing the team an easier time tracking them down for a splatting. Also, the Kraken--despite all the nerfs it got--is still pretty viable as a surprise attack when someone least expects it. This combo helps make for a fearsome Splatling.
Last edited: