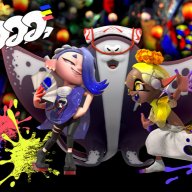 Joined

Sep 3, 2023
Messages

2
This is a guide to get the Deep cut banners that you may have been seeing around the place.
These banners are only available via the Japanese news page on your switch (so far).
To get them, make a new profile on your switch, and set it for online activity. Change the region to Japan when prompted.
After making the account, go into the news tab in the bottom of the switch home page. You will see both English and Japanese news. Try and find this post.
If you cannot find it, go to the 'find channels' in the top left hand corner and search for splatoon. In the splatoon news channel you should see this post.
once you have clicked on it, scroll down to the turquoise button and click it. It will open Splatoon 3. Then just go to the lobby and claim your banners!
(You can now delete the profile to stop getting Japanese news)
enjoy! :3