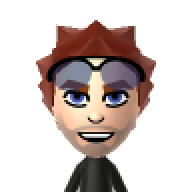 Joined

May 25, 2015
Messages

24
Location
Inkslingers
INTRODUCTION​
Are you interested in socializing with
Splatoon
gamers your age but haven't been able to "weed out" all the adolescent players? Have you been unable to join traditional, time-consuming clans because, being responsible adult, you have had to juggle your free time with going to college, taking care of children, or being employed in a full time job? In short, are you interested in an online experience akin to "shooting the bull" with a group of drinking buddies? If so, then
the Splatoon Inkslingers
is the right place for you!
MEMBERSHIP
​
The Inkslingers clan has explored various titles on the Wii and Wii U throughout the years, but we are utterly pumped to start a new chapter with the Splatoon franchise!
If you would like to join the club, you need only to fulfill the following
:
Be at least 18 years of age or older.
That's it!
We don't ask for resumes, try-outs, probation periods, match stats, or any other sort of silliness. You just want to have fun, right? So do we! If you would like to learn more about membership with the Inkslingers, feel free to reply to this topic or private message McMurphy.
Confirmed Active Roster (Update last on 6/5/15 at 4:30pm)
[*
Omits clan members who have not yet actively added themselves to our Splatoon roster yet may still be playing the game
.]
Rotorooter
Anenao16
Merky Water
Torro947
Silv3rscorpion
Dunkaroo69
Crinklepouch
Cryptec
McMurphy
Sosyc
Martiia
Turnip
FriekNL
Funen1
Njok
JTBook
MikeyFromSantee
Epicpants
Umiwaver
Lawngnomer 6
ShaX
Grizzly3254
Olimar777
Powerdog15
GUIDELINES​
We like to ascribe the Inkslinger experience akin to having drinks with some buds after work or partying with them on the weekends. Nothing stops the music faster than a few knuckleheads, so we do have a few guidelines we expect people to follow during their stay:
No personal attacks on other members or various sorts of offensive behavior is allowed.
No glitching/hacking/cheating. We define such as purposefully accessing the game's programming or abusing a flaw in the programming to achieve an act or status that is not intended or possible otherwise.
CLAN FEATURES​
The Inkslingers experience is as simple and non intrusive as joining up with other adults your own age and playing some
Splatoon
at your convenience. For those of you who like to take part in activities, events, and communications beyond that simple formula, we offer several popular, optional features as well:
Clan Message Board ~A forum format to clan communications~

Text Chat ~we use our multiple chats to find out when members are playing, exchange contact information, or for some friendly chit-chat~

Frosty Pints ~our infamous weekend get-togethers fueled by booze~

Voice Chat ~We have our very own Ventrillo channel just for Splatoon~

Clan Podcast ~Our long running podcast comprised solely of clanmates~

Live Feeds ~Members broadcast their gaming feeds with fellow clanmates~

Tournaments/Events ~ We host fun, unique events such as the GS* Bar League~

Frequent Raffles ~ We show our appreciation to our members with raffle prizes~
...and much, much more!
Thank you for taking the time to view our clan's topic! I wish you the best in your Splatoon endeavors!
The Splatoon Clan for Adults.
The Splatoon Clan for Parents.
The Splatoon Clan for Older Gamers.
The Splatoon Clan for Mature, Casual Gamers.
Last edited: