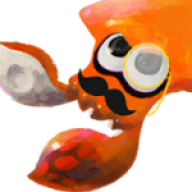 Joined

May 20, 2015
Messages

93
Location
WiseSquid submitted a new guide:
L-3 Nozzlenose D
- A limerick

The best, yet humble L-3
Its always coming with me
I first throw a bomb
then like in 'nam
Follow up with a nice spree

This is the basis of shooting
A statement not worth refuting
If it must be done quick
Do a bomb flick
Then start ink diluting.

When pushing the button you fire 3 shots
The time this takes in action is lots
So if you need to go
'cause they're setting you aglow
Use a bomb instead, you clutz

But how do you charge your special so fast?
Kraken comes out and is built...​
Read more about this guide...