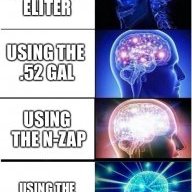 Joined

Mar 16, 2018
Messages

282
Location
MotorGamer submitted a new guide:
Mini Splatling Guide
- How To Use The Mini Splatling Effectively
View attachment 6232

The Mini Splatling is my favorite weapon in Splatoon. It is seriously under rated, and it can easily beat almost any 1v1 if played correctly.

Main Weapon:

The Mini Splatling is the lightest of all the Splatlings, it has the fastest charge, but shortest range and duration of fire. It has the same damage output as the Heavy Splatling and the Hydra Splatling (note: When fully charged the Hydra Splatling does more damage per shot). This means that this is the most...
Read more about this guide...