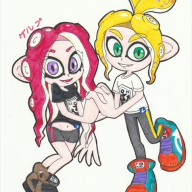 Joined

May 1, 2018
Messages

903
I felt like I needed to make a thread for this since not only there are already misconceptions about the game already out there, I know that there will be more misconceptions coming as not only more information about the game surfaces but also release and post-release misconceptions as well.
The first misconception I saw being spread around is that the upside-down tower seen in the trailer is the Inkopolis Tower. Well, it's actually NOT Inkopolis Tower since, for one, Splatoon 3 doesn't take place in Inkopolis at all and secondly, the tower could be the Eiffel Tower or its replica made during human times, as replicas of famous landmarks exist in other places in real life.
Now here is a bigger one: the removal of genders. Gender wasn't really removed, they only removed the hairstyle and legwear locks for customization so players have even more customization options to choose from. It's just the wording that was removed, plus, none of the games ever explicitly said "Choose a gender", the only change is that the male and female body-types aren't named anymore.
I know that more misconceptions will come up in the future, but these two seem to be the only ones for now.