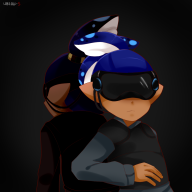 Joined

Nov 9, 2015
Messages

174
Earth in the far future. Humanity was wiped out by Global Warming, and rising sea levels. for Nine Thousand years the land remained unclaimed. Even when the water levels receded there was no life on land. Except for plants that managed to survive the floods. all of what was before had been erased, or buried under the sands of time. It was during this time sea life started to evolve. at first it was just the ability to breath air, but slowly they evolved to walk on land. about a Thousand years later they started to evolve into humanoid forms.

These primitive creatures find a cat that had been frozen for nearly Ten thousand years. This cat was named Judd, and he was frozen a few weeks before the collapse Ten Thousand years ago. with Judd the cat these primitives came up with Turf Wars. Back then Turf Wars was to help settle things between teams. As the years went by everything began advancing. over the next two thousand years great cities start to grow as technology paved the path towards a brighter future, But this progress would be halted by the sea levels rising again.

Due to rising sea levels Inklings, and Octarians negotiated over land. When a deal couldn't be made war broke out. Thus began the Great Turf War. Both sides were equally match each side not backing down. The Octarians were the first to make a breakthrough. the Great Octo-Weapons turned the tide of war in the Octarian's favor. With these weapons behind them the Octarians started to push back the inklings. Not wanting to lose the war the Inklings quickly make there own weapon of war, but the Octarians were hiding something bigger.

The Inklings created a mask that when worn changes the user's personality, and combat abilities. It made them fearless, take more risks, and fight overwhelming odds without giving up any ground. only a handful of soldiers who was given this equipment, but it turned them into monsters. The helmet did exactly as expected, but at the same time it changed who there were. Suddenly a normal soldier wouldn't hesitate to sacrifice one of there own to keep them fighting. The helmets came at a cost. Those who took off the helmet would immediately have a mental breakdown. Both from a dependency on the device, and the realization of what they had done. All soldiers who used this helmet was forced to remove it, and sent to a medical facility. Without any weapon on there side the Octarians were on the verge of winning. Then the Octarians released the Great Octo-Super weapons. Monstrous machines of war designed for one thing and one things only. Complete Annihilation of anything Inkling.

Just as things seemed there bleakest. the Great Octo-super weapons had there power source disconnected. The Octo-Super weapons being separated from there power source made them harmless. the Inklings not wasting a moment quickly swarm the Octarian's powerless super weapons. The Octarians fled surprised by the defeat of there super weapons. Shortly there after Inklings win the war, and the Octarians forced to live in the great Octo-Valley. All devices of war was suppose to be destroyed. The only things that wasn't destroyed was a handful of the Inkling super helmets. this breakthrough in clothes altering a player's skill was a popular idea for standard Turf War games.

it has been nearly 100 years since the great turf wars. Inklings have populated all the known landmass, and they have advanced to modern times. Turf wars were now nothing more than a fun game between teams of four players. This peaceful life style wasn't going to last. The Octarians have been plotting for years. There plan is the steal all the zapfish. these fish are used to power the various things Inklings have made. the Great Zap Fish himself powers all of Inkopolis. The Octarians were left with nothing since the Great Turf war. they have began to run out of power, and need these zapfish to bring there Octo-Super Weapons back to life so they can reclaim what was stolen from them.

Life is Peaceful in Inkopolis everyone is wearing various colorful outfits. The main plaza is where things are sold that range from clothing to weapons. All of which is for the Turf Wars that are played daily. The Squid Sisters who are popular Idles give out announcements to various events for the day even what maps are currently available to play on. Everyone couldn't be more happy about life. Then disaster strikes. The Octarians stole all the zapfish. even the Great Zapfish mysteriously vanished. people were concerned about the disappearances of the Zapfish. The squid sisters worried about people's safety, and started to announce cancellations of the turf wars due to insufficient power to run the respawn pads.

A few days later all the Zap fish were returned by the mysterious Agents Orange, and Blue. Two new agents trained by captain Cuttlefish himself. Thanks to these Two agents the Zapfish were returned and the Octarians were defeated. Leaderless the Octarians strike a desperate deal so they can once again co-exist. early attempts to bring the two races together didn't go well, and the agents were kept busy trying to keep the peace between the two races. Eventually successful integration happened, and eventually Octarians were allowed into Turf Wars.
Now that the history lesson is over lets get to the story shall we? This story takes place a few months after the Octarians and the Inklings started to live together peacefully. This story involved a certain little inkling name Hunter Williston. He is a male inkling with Dark Blue tendrels that end in Cyan tips with a few black spots. Hunter didn't play Turf war that much. He liked to Tinker with stuff from the old war instead. He even got a deal through the weapon shop to repair a few weapons on the side as a job. He enjoyed helping others keeping there gear in tip top shape.

Hunter's Grandfather was one of the soldiers that wore the Inkling helmet back during the Great Turf War. He had recently passed away, and all his possessions were being divided between his 3 children. Hunter's Father got a few things, and the helmet was one of them. Knowing his son would loves to tinker around with old stuff. He give it to Hunter as something to remember his grandfather by. Hunter accepts the helmet and tries it on. Once the helmet was on he tries turning it on, but nothing happens. He takes off the helmet and starts to take it apart. He finds a lot of damaged parts. He leans back int he chair and sighs. "Its going to take a bit to get this working again." he tries to think of a way to repair the mask. Then it hit him. The Octarians had a combat mask of there own. maybe it has a few parts that he could use.

He gets up, grabs his gear, and heads outside. His mother stopping him at the door to give him a kiss before letting him leave. "Have a fun time son" Hunter smiles, and waves back to his mother as he runs into town. Just as he gets into town the jumbo-tron had the squid sisters on it, but it was just them giving there "Stay Fresh" closing line. He didn't care much about missing the news. As he didn't play Turf War enough to care. He arrives at Sheldon's Weapon shop, and heads inside. Once inside Sheldon waves at him "Good to see you Hunter. i need a few weapons repaired i will pay double if you can get them fixed quickly." Hunter nods. "how about instead of paying me this time you help me get something. An Octarian Combat Mask" Sheldon looks at hunter confused. "Ok..guess this is one of your side projects?" Hunter nods. "Ok then well get the weapons fixed and i will look into it" Hunter smiles. "Thank you" he quickly heads into the back and begins working.

Hunter heads into the back and sees about four weapons needing fixing. There was a roller that had broke the handle off. There was a Splattershot JR and its tank that was leaking. There was also 2 Splat Chargers. one with a broken tank the other with a bent barrel. "it still amazes me how people can be so rough with there gear" He gets to work fixing each gun before testing them in the back. one he was finished he hands them to Sheldon. "Thanks for doing this so quickly...i managed to get one of those masks. Go see Annie and Moe they have one for ya" Hunter nods and quickly heads out. Just as he leaves the store some Pro-Inkling gang members were beating up some Octarians. They were laughing as beating them up. Suddenly two agents showed up. Agents 1 and 2 land behind two of them before subduing them. Hunter being unable to go through the crowd just watched as this unfolds. As he was watches the fight he could feel something strange inside of him as he watched Agent 2 fight. once the police showed up the other gang members dispersed.

Agent 1, and 2 help the police arrest the criminals. Then helps the Octarians who were the victims. Hunter spots his father and runs over to him. "Hey Dad. if you need an eye witness i did see what happened." His dad smiled and nodded. "you tell the Agents what happened i need to head back down to the station and book these guys." Hunter nods. "I will" Hunter's father smiles and rubs Hunter's head. "I raised you well" He goes back to the squad car and heads back to the station. Agents 1 overheard the conversation and let Agent 2 finish up. "so what was it you saw?" Hunter turns to the Agent. "well as i just leaving Sheldon's store i notice a couple of Inklings standing over some Octarians when i got closer i notices they were members of the Pro-Inkling gang by there jacket. The way they were beating them up and laughing...do people really act like that?" Agent 1 sighs. "Sadly yes...thank you for the information we need to get going." Agent 1 motion to Agent 2 and they headed off in a hurry. Hunter waves bye then goes to Annie and Moe's store.

Upon entering Annie sees Hunter and quickly runs into the back to grab the item. She quickly returns with it. "Here you go i hope you like it." "You must be blind to be getting an item like that!" Annie sighs. "Quite Moe!" Hunter nods. "Thank you Annie." he waves bye, and heads home. on his way home he begins to think about what he felt back there. What was that strong emotion, and why was it towards Agent 2. As he pondered this he didn't realize how close he was to home and bumps into the door. "Ow" His mother opens the door, and chuckles. "guess you had a busy day...your father just called me, and told me about it. I'm so proud of you" Hunter smiles, and rubs the back of his head a bit embarrassed. "I'm going to head up to my room to see if i cant salvage a few parts from this mask. to try and repair Grandpa's mask." his mother nods. "have fun" He nods and heads upstairs to his room. Once there he sits down at this desk and begins tinkering.

It took him all of the remaining day, and a bit into the night to finish repairing the mask. With the battery dead he had to leave the mask to charge overnight. In the morning he wakes up, and puts on the mask. one he turned it on a visual display pops up of everything around him, and he got a sudden urge to play Turf War. he grabs his Splatterscope, and heads out the door. he makes it to town square just in time for the jumbo-tron to turn on. the Squid Sisters Callie, and Marie appear and give today's announcements. They just go on about the maps available, but also mention a special event going on today. a raffle of sorts to meet the Squid sisters. all you had to do was participate in a game today and you were eligible to meet them. Sure enough this got everyone talking. Hunter not wanting to waste time runs on into the game room. To await for him to be placed in a game.
It only took about a minute before they were on there way to Saltspray Rig. it was an old oil rig that was converted into a game map. this map is most interesting as a large chunk of the map is off to the side.

Hunter heads to his teams spawn pad with his 3 other teams mates on Blue team. His teammates carried a krak-on roller and 2 of them carried a .96 GAL. On the other team there was An Octobrush , a golden roller, a Krack-on roller, and a slosher.

As soon as the whistle was blown they were off. Hunter dashes to take prime position overlooking a good chunk of the map. As his teammates spread out to cover the most ground. the Krak-on roller was following him for a quicker way to the larger part of the map.

It didn't take long for the first person on the enemy team to show up. He takes aim and he could feel himself able to predict the enemy's movement a bit better than before. "The helmet must have some tracking stat attached to it." he pulls the trigger the weapons charges then fires. The shot hits the target and they exploded in a splash of blue ink.

His teammates were doing a good job at covering the map. The other team were having a hard time covering turf.

The octo-brush user manages to get behind blue team and sneaks up on Hunter. Hunter barely noticed the brush user approaching to pull a splat bomb. The Brush user smacks Hunter with his weapon, and Hunter explodes in orange ink as he was defeated. Shortly after his splat bomb goes off, and splats the brush user.

After respawning he quickly heads back to that spot to repaint what the brush user covered. since he was using a splatterscope he couldn't cover it very well.

He stops when the helmet displayed something. it was pinpointing an enemy location from a teammate's radar. He looks in that direction, and sure enough there was a roller charging towards the radar.

He quickly takes aim, and shoots at him. His shot makes contact, and the roller explodes in blue ink. "Wow! This mask is amazing!"

He turns around just in time to see the brush user again. He smack Hunter with the brush, and he explodes again. This continued on for the whole match he get a splat, or two then the brush user would get him from behind.

He lost that game by 12%, but that's the nature of the game goes. Turf Wars wasn't his thing, but he just felt an urge to keep playing

so he did. Each game he was getting better at it. His last match of the day he didn't even get splatted once. He felt great about winning that last game. He wanted more, but there was no more matches.

By the time he got back to Inkopolis the Jumbo-Tron kicks on, and the squid sisters were on. "Hello everyone we are proud to announce today's winner!" Callie announced this as a list of names starts to scroll on the screen. it spins for about ten seconds then stops revealing the winner. Marie smile seeing the name "Hunter Williston! please make your way to the studio you are today's lucky winner!" Hunter was surprised by this, and quickly heads over to the studio.

Upon reaching it he was stopped at the door as a guard asked for his imformation. After showing his information to the guard lets him in. "Wow...i get to meet the squid sisters!" he was nervous, but heads inside eager to meet them.
A security guard lead him to the back room where the Squid sisters were waiting. He stops at the door and lets Hunter walk in. Upon entering the squid sisters wave. Callie was the first to speak. "So your Hunter?"

Marie leans in towards Callie giggling a bit. "Bit of a cutie isn't he?"

Callie whispers something to Marie as she was thinking. "the helmet is familiar"

She waves it off and stands up Marie following behind. "Congratulations winner! You get to meet us in person, and have your very own signed one of a kind poster from us."

Hunter was silent. Marie chuckles. "he seems nervous."

Callie giggles. "indeed."

Hunter finally speaks. "Its an honor to meet the both of you."

He bows to them out of respect. Marie smiles, and looks at her phone and looks up his player profile. "From your game profile. It says you don't play that much...What do you do in between games?"

Hunter looks over at Marie. "I repair weapons on the side, but I mainly just tinker with stuff."

Callie looks at him surprised. "What a unique feature about you...So do you help poor little Sheldon out?"

Hunter nods. "Yes i do, and he even pays me for my time"

Marie looks over at Callie. "Wonder if Gramps would be interested in speaking with him."

Callie looks at Marie. "Maybe, but it's late, and we do have a busy day tomorrow"

Marie nods, and pulls out the one of a kind poster from behind her chair. It was of their first world wide show. They sign it, and hand it Hunter. "Have a good night's rest, and remember."

They both speak at the same time. "Stay Fresh!"

Hunter nods. "Thank you it was great meeting the two of you"

He waves bye, and heads out of the studio. The guards had already called Hunter's father to pick him up since it was late, and to ensure Hunter had a safe trip home. Hunter opens up the side door of the squad car and gets in. "Hi dad!"

On the way home they talked about meeting the Squid Sisters, and about the poster. Once they were home they head inside, and have supper.

After supper Hunter heads upstairs, and hangs up the poster carefully. It was a lovely poster, but as he looked at it he begins to feel the same feeling back when Agent 2 was around. This time it was Marie he was looking at. This began to confused him.

He tossed it aside, and heads to bed. He sleeps with the mask on as he was wanting to test the battery life.

Also that night the Squid Sisters were talking to their grandpa about the winner. When they described the mask he turned pale. Callie gives a curious look. "What's wrong grandpa?"

Their grandpa shakes his head. "The mask you just described to me...it is extremely dangerous. More so that you tell me he is a tinkerer!"

He gets up and walks over to a photo he had and shows it to them. The photo was from the war and there was an inkling wearing the same looking mask. "it was one of the masks back from the Great Turf war. I already told you about what it does to the wearer."

Maire grabs the photo and looks at it. "What if that mask doesn't work....I mean it's been nearly a hundred years since that war."

Their grandpa sighs. "I only hope you are right, but only time will tell. Tomorrow your patrol will take you across the town. I want you to capture Hunter, and bring him to me."

Callie looks at her grandpa shocked. "You're asking us to kidnap a police officer's kid!"

Marie interjects. "It's not kidnapping if we ask for him to come with us, but if he refuses we have no other option. Besides I'm sure the father would understand."

Callie sighs clearly not happy with the kidnaping idea, and heads off to bed. Marie hugs her grandpa before heading to bed.
Last edited: