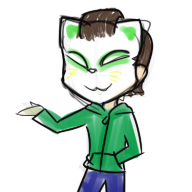 Joined

Jun 18, 2015
Messages

331
Location
Welcome to the RP Thread! Many of you probably have no experience RPing and that's okay. Some of you might have a lot of experience and that's okay too! Whatever your level of experience, we hope that you enjoy your stay in this thread.
But for the benefit of everyone, there are a few things that need to be made clear so that everyone is working on the same page. There may be some new acronyms you may not have seen or been aware of or new words or concepts that might seem foreign to you. That is what this thread is for: to kickstart your understanding of RPing… at least in this forum though a lot of this information can be applied to a lot of different places.
Terminology:
RP:
Stands for Roleplay; an activity wherein you take on the role of another character--whether yours or another's--in various situations, ranging from stressful to simple fun. Many use this as an exercise to develop characters. Some may want to make stories out of RPs. However you RP is fine as long as you follow the rules given to you.
GM:
GM is short for Gamemaster. This is/are the person/people that run an RP. Most RPs need some guiding hand to make sure that people follow the laws of reality--that's the jobs of GMs. They set the rules and standards of an RP and make sure that everyone abides by them. And don't be daunted--anyone could be a GM, you just have to have an idea and pitch it!
Canon:
Of or relating to the true plotline of the game, in this case, probably Splatoon.
OC:
Original Character; these are characters that a player has created from their own imagination.
PC:
A PC, or Player Character, is an OC or in-canon character controlled by a player.
Player:
A player is a person who is involved in an RP. Controls one or more PCs.
OOC:
Out of Character; this usually refers to something said in a post that isn't meant to reflect upon the actions of the PC. Also used to denote threads for discussion of a particular RP.
IC:
In Character; this usually refers to something said in a post that is meant to reflect upon the actions of the PC. Also used to denote threads for making posts for a particular RP.
How to RP:
Now that you know some basic terminology, you probably want to know how to actually do this RP thing. While the general rule is "do what the GM tells you to do," there's a bit more than that that I feel should be described.
Working through this chronologically, say that you're a potential GM and have an RP idea that you'd like to get everyone to participate in. Cool! But how do you go about that? You'd post a recruitment thread!
This should usually include a few things:
A Pitch:
It's nice that you have an idea and all, but if you don't try to explain it to everyone, no one will know how great your idea is. These can be short blurbs describing the RP, a snippet of action from the world you're going to be throwing your players into, both or more! Point is you need something to hook players and that's what your pitch is.
Rules:
As much as we loathe to admit it, rules are the only way that we'll know how to play the game. Even if it is fast and loose, you need to explain to your players what is and isn't okay. Posting limits, deadlines, powers characters can have, dice rolls… anything you want to encorporate… explain it.
Sign-Ups:
Now that you've hooked some players, they need to know how to join. Leaving a character sheet or just telling your players to post their characters--whatever works for you. Basically you need a snapshot of the character that is going to be participating in your story. Ask for all relevant information you need from the player. Then, you need to accept or reject them. If you feel you need to reject a character--and there are some legitimate reasons to do so--let the player know and tell them why.
A Minimum to Begin:
This isn't necessary, but having a minimum number of players can give your sign-ups something to look forward to.
Now, you've hooked a few players, explained the game to them and you're ready for posts! Congratulations! Change the recruitment thread into an OOC thread so people can discuss the game and make the IC thread and then the game can begin.
Let's change perspectives. Now you are a player participating in this RP. You know the rules and the premise and have signed up and the game has begun. What to do?
First, posting. Posting is how players interact with the game world. These typically describe the actions of the PC and how they affect the world around them. Almost every RP on this forum will use posts--after all, it is our medium of communication through the entire forum!
The rules for posting are typically listed by a GM. That said, most GMs should enforce some posting limit. This means that players should only post so often every such amount of hours or days. This gives other players a means to participate if they have different schedules or time zones.
Otherwise, play at GM discretion and have fun!
Etiquette:
Now, you know how to RP. But there's some general rules that make playing more fun for everyone involved. This is called etiquette; you don't need to follow these rules hard and fast, but it's good to keep them in mind when RPing.
Don't Usurp the GM:
Players, be careful of what you post. Don't make enemies appear out of nowhere because you're bored. Don't change the room to have an entrance that it didn't have. Don't change the time to something it isn't. Don't put words into the mouths of NPCs.
These things are not yours to control.
It's okay to sometimes make a book appear out of nowhere or to have a chair to sit in where there once wasn't--these are minor changes that don't affect the plot. So basically, when making up details of things around you just keep in mind this: will it affect the plot? Will it ruin what the GM is planning? Am I literally being god?
If the answer to those questions is yes then don't do it!
Don't Usurp the Player:
As a GM is it incredibly tempting to control a lot of what your players are doing. Don't do this. The player characters are basically all the players get to control in the story and should be left to the players to decide what they do.
Now, once in awhile, maybe to move the plot along or push an agenda, small amount of control are okay, but be careful not to commandeer the PC. It's rude.
Further, other players shouldn't control other players character without their express permission for exactly the same reasons. Don't put words in their mouth, don't portray them doing something that they haven't or wouldn't do. It's rude.
You Aren't the Only One Playing:
Be mindful of your actions. Much of the time, your actions will affect other players directly or indirectly. Try not to make your character's story or plot more interesting than the others. Don't try to be the Main Character. The roleplay is about everybody. Not just one person.
Don't Post Too Often:
If there aren't posting limits, don't post every three seconds. It makes it hard to read other people's stuff… not to mention your own.
Don't Post Too Little:
We like to see what you write! If you're needing a vacation from the RP, just let the GM know and usually they can manage something, but don't just not post. Especially when there are posting limits, it can hold back the rest of the group.
Conclusion:

That's the long and short of it, everyone! I hope this helps and give the ball a little push to get going. If I'm missing anything important please, let me know so I can add it in later.
Special thanks to
@Aykorn
for poking me to do finally do this.