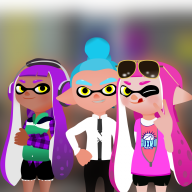 Joined

Aug 30, 2021
Messages

34
Hi! And welcome to my project thread.
This Splatoon project is likely different from the others you've seen. Is an update for the first Splatoon and the history events happen between the events of Splatoon 2 and Splatoon 3. It has plenty of things but most of them are not ready yet, I will eventually continue to finish and post everything I can.
The project has a Instagram account if you want to visit it.
Less start from the beginning.
It's made by Clen4ever (it's me, as you can see), and u/CaptainUshiwaka526, we both contribute in this project.
First, new logos! Well, they are not exactly new but they represent this project:
The second thing you will notice that has changed is the create an inkling screen. But you only have "natural" hairs, and make up. You will have to buy the different ways of customization in a vending machine for reasons I'll explain later.
And after you make your beautiful inkling and end the tutorial, you will be introduced to the squid sisters news, when your new hero mission stars, but that will come later. You have to explore the new areas that Inkopolis have!
This site is accessible from top apart of the plaza, between the arena and the studio of the squid sisters. I will explain everything eventually, but for now, this is all I have without going to spoilers.
I hope you like what we have so far anyways!
Last edited: