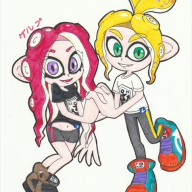 Joined

May 1, 2018
Messages

964
Leaving the Comfort of Inkopolis​
The Octarian neighborhood thrives on its own thanks to the collective efforts of the Octarians that live there.
In a house in the neighborhood, there lives two brothers: an Octoling and an Octotrooper.
"Can't wait for more Turf War excitement! I wonder what new locations to battle in." a very excited Octoling named Coral talks to his Octotrooper brother and roommate.
"Now now Coral, don't go battling where there are no Spawn Points, or else you won't come back." the Octotrooper brother named Clam warns.
"You're right, surely Inkopolis has more locations to battle in. From what I remember, Flounder Heights used to be a popular place for ink battles before we made it to the surface." Coral agrees with his Octotrooper brother and remembers one of the sites for ink battles.
Suddenly, Coral gets a phone call from his girlfriend.
"Hello! How are you doing today?" Coral answers his octopus-shaped phone.
"I'm doing great, well, actually not really." his girlfriend, an Octoling named Kelp replies.
"What happened? Did your sister go missing?" Coral asks, feeling a little concerned.
Upon hearing what Coral asked, Clam began to feel worried.
"No, she's fine." Kelp answers the question.
Clam somehow heard it and felt relieved.
"So, what is troubling you today?" Coral brings up a follow-up question.
"It's about one of our notable guards, remember him? His name is Shark." Kelp brought up the name of an Elite Octoling.
"I remember seeing him whenever you and I left to go to the Deca Tower. What happened to him?" Coral brings from his memory.
"He is nowhere to be seen in Inkopolis, I asked my uncle where he was but he kept the information from me." Kelp explains the situation.
"Why did he keep crucial information from you?" Coral wonders why General Anemone would do such a thing.
"He said that it's to keep me safe." Kelp tells Coral what General Anemone said.
"Don't worry, I'll go talk to him about it!" Coral promises his girlfriend. "Anything else on your mind?"
"Nothing else." Kelp replies. "Talk to you later. Bye, my sweet cookie!"
"Bye, my honeybun!" Coral says before ending the call.
"Are you really going to see General Anemone?" Clam seems to have overheard the call.
"Off course! We can't just stand here while we have a fellow Octarian missing!" Coral responds while grabbing his Octo Shot.
"Then what's the Octo Shot for?" Clam asks his Octoling brother.
"To deal with a double agent or intruder if either seems to be the case." Coral answers.
After the talk between two brothers, Coral left the house to go to General Anemone's house. Upon getting there and knocking on the door, the Octohurler general opens it to greet Coral.
"Good afternoon, Coral!" General Anemone greets the Octoling visitor.
"Hey General Anemone, can we talk?" Coral requests the Octohurler general.
"Sure we can! Come inside." General Anemone invites the Octoling visitor.
As both come inside the general's house, photos of Kelp's parents can be seen around them. After arriving to the living room, they both sit on the couch to discuss some matters.
"I recently found out that Shark has gone missing." Coral begins the discussion.
"Kelp told you this, didn't she?" General Anemone asks.
"She did. I do feel concerned about Shark, he helped all of us when we were trying to keep enemies out of our area." Coral explains his worry.
"Okay, don't tell Kelp this as I will eventually tell her myself, but Shark has gone to a faraway city known as Splatsville." the Octohurler general explains to the Octoling.
"Splatsville?" Coral asks, a little bit confused.
"Yes Splatsville, and it's located in the Splatlands." Anemone confirms and then tells the location. "Now please don't get the idea to go there, for your own safety."
"What is dangerous about Splatsville?" the curious Octoling asks.
"It's a place of chaos, a place in which you can't trust anyone, a place where safety is an afterthought." Anemone answers.
"Then why did Shark go there?" Coral brings up a follow-up question.
"He told me that he needs to hone his sniping skills in extreme situations. If he does stay too long there, we will send some other members of the Octospartans to look for him. Splatsville is too dangerous even for a private like you." the general warns.
"Well, I'm going to help find him!" Coral insists on going to the dangerous city.
"Don't go there, my niece is going to be worried sick about you. And I started seeing you like a son to me, but if you insist, then I will tell you what to watch out for." Anemone tries to talk Coral out of it but eventually lets him do this.
"I know you are worried about me. There is a big chance that I might get homesick, but it's all these risks I have to take in order to make sure we don't leave a fellow Octarian behind." Coral explains.
Later on, back at Coral and Clam's house, Coral is packing his bags. As soon as he puts his Turf War equipment inside, Clam comes into the room.
"Please try to stay out of trouble, the fact that I won't be seeing you for a while makes me both sad and worried." Clam tells Coral how he feels about the situation.
"Don't worry bro, I will survive." Coral brings consolation to his brother while putting the last of what he intends to bring and closes the bag.
Suddenly, the doorbell rings Coral and Clam goes to see who it is and open the door.
"Hey Kelp and Ocean! How are you girls doing?" Coral greets the Octoling and Octobomber sisters at the door.
"Not great now that we discovered that you're going to Splatsville." Kelp replies, a little scared for Coral.
"Don't worry about me, I can take care of myself." Coral comforts his Octoling girlfriend.
"You're my boyfriend's brother, he would be devastated if something happened to you." Ocean mentions Clam.
"I know, but remember that we made it to Inkopolis by taking risks." Coral insists.
"Well, if you need some comforting voices, you have our numbers." Kelp decides to let Coral go on the mission to find Shark.
"I will miss this place, but more importantly..." Coral starts shedding tears "I will miss you all!"
"Shh shh shh, it's okay, you can talk to us anytime you like." Kelp being her motherly self again, talking in a gentle voice as she hugs Coral and brushes her hand on his head.
After some tearful goodbyes to his fellow Octarian compatriots, Coral leaves the neighborhood that he lives in and decides to go to Inkopolis Square one last time to see the Inkling friends he has made in the past, both to see them one last time and also to tell them that he is not going to be in Inkopolis for a while. After a final look back at the two places he used to visit regularly, the Deca Tower and Grizzco, he goes to the airport and books a flight to Splatsville. Coral hopes to find Shark so he can be sure that he will be okay.
Last edited: