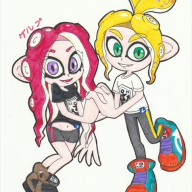 Joined

May 1, 2018
Messages

1,059
Octo Valley recently has become a dangerous place as the Crimson Octarians (the enemy Octarian seen in the games) began taking over lands that doesn't belong to them, moreover, they plan to capture anyone who used to live on those lands as well as kidnap citizens from Inkopolis to add to their growing army.

This RP is about the Ringed Octarians trying to escape the place that used to be their home, the reason for escape is that the Crimson Octarians want to capture them for farming purposes like forcing Ringed Octolings to cut their tentacles to create more soldiers for the Crimson Octarians. Moreover, the Crimson Octarians tried to capture certain other species like Inklings as well so they wouldn't cause them any trouble as well as luring even more Inklings into their trap.

For how the RP is played, can have as many characters as you want. You can choose to be an Inkling, a Ringed Octoling (or just a Ringed Octarian in general) or even a Crimson Octoling (or a Crimson Octarian) who rebelled against his or her own army, Inktolings are allowed as well.

The structure of the plot differs in which it will have both a free and a linear structure, whenever the plot enters its free mode, players can do what they want with their characters as long as it doesn't mess with the plot (for example, character development and free character interactions are allowed), but once the plot enters its linear mode, the plot will advance and depending on the situation, combat will be involved.



One rule that needs to be followed: No godmodding, which it includes controlling another player's character without their permission.

This thread is used to talk when out of character, so plot points can be discussed. However, if you want to discuss things that are out of character in the In Character RP thread, use the () parenthesis to not confuse the others.


EDIT: You can also use Octolings without a specific species name, sorry I didn't clarify that.

EDIT 2: Decided to remove the three character limit, since I felt like it was unfair to put such a limit.
Last edited: