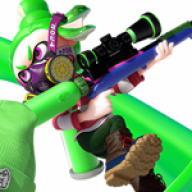 Joined

Sep 21, 2016
Messages

128
Location
I had the pleasure (or lack thereof) to play some ranked matches today and I noticed a few things in regard to the ranked meter
-Rank is no longer accompanied by a numerical value
-You do not directly lose rank upon losing a battle.
So I noticed when I lost sometimes the meter would shake a little. But othe times a crack would appear, but still no points were lost. I got 2 cracks in my meter before the stages changed, then I played, and managed to rank up from C- without any cracks. Specifically, I went straight from C- to B-, and I know I saw C and C+ players, which leads me to believe
If you rank up without any cracks in your meter, you will go up a letter rank.
Now I'm not sure how this works or how it will apply in the higher ranks (S/S+, although I doubt it will) buy I'm curious what your experiences are and what you think of this new system.