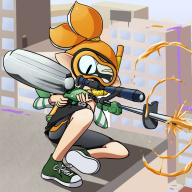 Joined

Apr 17, 2016
Messages

105
Hello squids. I want to know your top five favorite Nintendo games ever. You can include Splatoon if you would like. If it is to hard to just pick five, you may extend it to 10. Try to make it a top five (or ten) in the sense that 1 is your favorite game ever, 2 is your second favorite game ever, etc. If you would like, you may explain why they are your favorites.
Here is mine :
1. Earthbound (Mother 2)
2. Pokemon Crystal
3. Simcity (super Nintendo version)
4. Paper Mario Thousand Year Door
5. Xenoblade Chronicles (Wii version)
I liked Xenoblade Chronicles before smash Wii u was a thing. Great story. Great characters. The paper mario series is very near and dear to me (except sticker star). It was hard to choose between the thousand year door and the N64 version. Not to gloat or anything, but I consider myself an expert at Simcity for the super nintendo in terms of game mechanics so if you ever have questions about it don't hesitate to ask
. I also used to play it with my cousins growing up. Pokemon crystal is my favorite Pokemon game ever. During the summer me and my cousin played this game all day. Earthbound was a game I played with my cousins growing up too and I still play it. Everything about it is brilliant.
Splatoon almost took the fifth spot. I love the idea and still can not stop playing it. 20 years from now I will still hold it as one of my favorites because I like it that much. Unfortunately, some classics made it be 6 in a list for me.
Your turn!