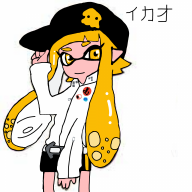 Joined

Jun 17, 2021
Messages

78
Location
I got this idea from when I was on the thread
Ask Coral Thread
. So here are the rules:
Along with the original game rules, here is the list...
- Answer the question from the squid above you.
- You can't set your own question unless you answer upper squid's question.
- You can't answer any other question apart from the one above you.
- You can't chat between questions (sorry!)
- You can't answer questions with one of your own options.
- The questions have to be splatoon-themed.
- When you put down Splatoon, you refer to both games. You can't have questions based on Splatoon 1/2
specifically.
-
You must explain why you chose that option.
-Have fun!
I'm sorry if the rules were too confusing, but without them this thread would be too confusing.
Anyway, I'll start:
Would you rather skip the newsround completely or skip Sheldon's dialog completely?
BTW if you've got any questions contact me on gmail:
cheesycookie09@gmail.com
Last edited: