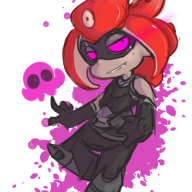 Gender:

Male

Birthday:

May 24, 1994

(Age: 26)

Location:

Occupation:

Unemployed
Aristeia
Semi-Pro Squid, Male, 26, from Kingsport, Tennessee
Back with the Whiprays for Splatoon 2! Sep 4, 2017
Aristeia was last seen:

Jan 31, 2019
Loading...

Loading...

About

Gender:

Male

Birthday:

May 24, 1994 (Age: 26)

Location:

Occupation:

Unemployed

Hello, Squidboards!

I am a Splatoon fanatic dedicated to the finer points of the game. Been part of the site for quite a little while now, and I've been playing since the initial Global Testfires in spring of '15, and have put a lot of time into general squid-kidding. (Over 1400 hours wooo!) I have lived in the Northeast Ohio area all my life, and I have just finished my final semester of college (it took me 5 years don't judge). I recently moved to East Tennessee to live with my partner and fellow squid-kidder, Sam

When I'm not obsessively playing Splatoon, I am a Bachelor of Arts graduate who hopes to one day work in an education-related nonprofit and write fantasy fiction.

Splatoon 2 Stats-

Level: 34

Current/Highest Ranks...

Splat Zones: A/A

Tower Control: S/S

Rainmaker: S/S

Splatoon 1 Stats-

Final Level: Maxed out at 50

Final Rank: Mid S

Highest Recorded Rank: S+ 40

General Info-

Squad: Watch Me Whiprays (Coach/Kind-of Captain)

Preferred Weapons: Competitively I prefer short, fast Shooters and the occasional Roller.

Favorite Ranked Mode: Tower Control. I don't necessarily know what I am best at, but the one that is most fun for me to play is Tower. Splat Zones tends to frustrate me the most.

Greatest Strengths: Movement. My gaming history has consisted of thousands of hours of platforming. Mario games are my favorite, and I like to think that I have perfected my reflexes and general know-how when it comes to that genre...which is why I love Splatoon. There are definite platforming elements to it, so when it comes to maneuvering in ink and getting the jump on unsuspecting opponents, my talents at the game really shine. My best weapons are typically fast and kill at close-range, so I do very well on stages built for close-combat. I love having bombs to throw, so the three types of projectile bombs are hands-down my most useful subs. Splat Bombs are the perfect zoning tool in my mind. My favorite special is the Inkzooka, as I've been working for quite some time on my accuracy and handling of that weapon.

Greatest Weaknesses: My emotion. If I do not take precautionary measures to calm myself down, I will let losing streaks effect me dramatically. Imagine what I mean by dramatically, and then imagine that exaggerated by a factor of about ten. I can get real screwy if I'm not careful. Can tend to abandon my careful/sneaky approach and my strengths when too emotionally invested. The first thing to go when I get flustered is my positioning. I act recklessly and play for the differential instead of the Knockout when I feel threatened. (In other words, I tend towards immediate halts of opponent progress when a gradual push-back would be smarter.)

Interact

Content:

Facebook:

sifo6833

NNID:

Sifo33

Signature

I go by Pwnda now in game.

Re-learning things after a break.

Coach or something of the Watch Me Whiprays

​

Loading...