This site uses cookies. By continuing to use this site, you are agreeing to our use of cookies.

Learn More.

Squidboards now has its own Discord server!

Welcome to SquidBoards, the largest forum dedicated to Splatoon! Over 15,000 Splatoon fans from around the world have come to discuss this fantastic game with over 150,000 posts!

You are currently viewing our boards as a visitor. Click here to sign up right now and start on your path in the Splatoon community!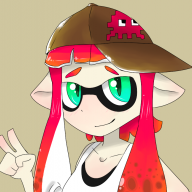 Gender:

Female

Birthday:

Sep 12, 1993

(Age: 27)

Occupation:

Cashier/ Retail
Ember-Wisp
Semi-Pro Squid, Female, 27
Ember-Wisp was last seen:

Feb 20, 2018
Loading...

Loading...

About

Gender:

Female

Birthday:

Sep 12, 1993 (Age: 27)

Occupation:

Cashier/ Retail

Hello Squid boards!

Just a few things you should know about me...

I'm really nerdy, I love video games of all kinds, anime, digital drawing (mostly fan art) cartoons and animated movies, SiFi. like, to many things to list so if you really wanted to know more you can just ask.

I've never really used a forum before so if I do things that seem to make not much sense, that's why.

And I have a major issue with Dyslexia! if my grammar and spelling is really off, don't be afraid to correct me. I've been struggling with this issue my whole life and it helps me more than anyone could know to just correct me once in a while.

Interact

Content:

NNID:

IceCrystalEmber

Switch Friend Code:

SW-6109-1903-3315

Loading...