This site uses cookies. By continuing to use this site, you are agreeing to our use of cookies.

Learn More.

Squidboards now has its own Discord server!

Welcome to SquidBoards, the largest forum dedicated to Splatoon! Over 15,000 Splatoon fans from around the world have come to discuss this fantastic game with over 150,000 posts!

You are currently viewing our boards as a visitor. Click here to sign up right now and start on your path in the Splatoon community!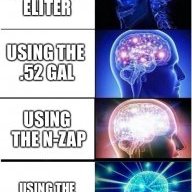 Gender:

Male

Location:

Occupation:

Casually Competitive Squid Kid
MotorGamer
Inkling Cadet, Male, from USA
I may also do a rapid blaster guide, but I need more experience with weapon, because I don't play it as much as the Mini. Apr 5, 2018
MotorGamer was last seen:

Sep 16, 2018
Loading...

Loading...

About

Gender:

Male

Location:

Occupation:

Casually Competitive Squid Kid

Mains: Mini Splatling, Rapid Blaster, Zink Mini Splatling
Secondaries: Heavy Splatling, Splattershot
Currently Trying: Clash Blaster, Dapple Dualies, .96 Gal

S+ player in Splatoon 2. Not competitive. Looking for advice in Clam Blitz.

Interact

Content:

NNID:

MotorGamer

Signature

Splat Zones: S+ Tower Control: S+ Rainmaker: S+ Clam Blitz: S Salmon Run: Profreshional League Power: I don't play league

"Hey everybody, its Chuggaaconroy! And I'm here to tell you that I've got a cramp in my vernacular!" - Emile Rodolfo Rosales - Birou (Chuggaaconroy)

Loading...

Loading...