This site uses cookies. By continuing to use this site, you are agreeing to our use of cookies.

Learn More.

Squidboards now has its own Discord server!

Welcome to SquidBoards, the largest forum dedicated to Splatoon! Over 15,000 Splatoon fans from around the world have come to discuss this fantastic game with over 150,000 posts!

You are currently viewing our boards as a visitor. Click here to sign up right now and start on your path in the Splatoon community!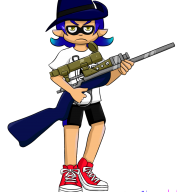 SurrealSquid
Senior Squid, Male, from a small house near Ancho-V Games
Conversations between Inklings: "Woomy." "Ngyes!" Conversations between players: "GET ON THE DARN TOWER!" "WHY ARE YOU SO STUPID?" "WOOMY!" Apr 21, 2016
SurrealSquid was last seen:

Aug 24, 2017
Loading...

Loading...

About

Interact

Signature

"Boom, headshot."
"Snipin´s a good job, mate! It´s challenging work, out of doors. I guarantee you´ll not go hungry, ´cause at the end of the day, as long as there´s two people left on the planet, someone is gonna want someone dead."
"Dad? Dad, I'm a- Ye- Not a "crazed gunman", dad, I'm an assassin! ...Well, the difference bein' one is a job and the other's mental sickness!"
"I´ll be honest with ya: my parents do NOT care for it."
"I think his mate saw me...yes, yes he did!"
"Feelins? Look mate, you know who has a lot of feelings? Blokes who bludgeon their wife to death, with a golf trophy. Professionals have standards."
"Be polite. Be efficient. Have a plan to kill everyone you meet."
Team Fortress 2-Meet the Sniper

Loading...