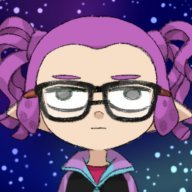 Joined

Feb 9, 2019
Messages

2
okay, so this is something that I do on the Just Dance Wiki forum. Basically, you have to write a sentence that starts with a certain letter of the alphabet. It will go in alphabetical order. Example:
User 1: AW YEAH! I got Rank X!
User 2: By doing what? Losing Ranked Matches?
User 3: Can someone explain to User 2 what Rank X means?
And a new story starts once Z has been done and there's a new A.
Got it? Okay, I'll start:
Am I crazy, or is Marina an Octoling?