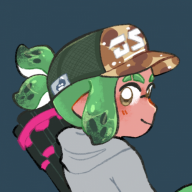 Joined

May 25, 2021
Messages

9
Location
NNID

ho12me
Switch Friend Code

SW-2699-2856-8184
#Splatoon
- A clever shooter with untapped potential only held back by a limited access to resources.
Introducing, Splatoon Stronghold!
For competitive Splatoon providing resources to longtimers and newcomers.
< < <
https://discord.gg/KduxKwSQpP
> > >
See the video & thread for more info!
(in case the preview isn't working:
https://www.youtube.com/watch?v=97olMhl1u7I
)
Here's a brief overview of what the Splatoon Stronghold has to offer! A more in-depth description of the various aspects of the Discord server can be found in the image below! [THREAD}]
We also have a YouTube channel where we post videos of competitive scrimmages recorded in our Discord server for those who want to review either their or others' gameplay to get better!
https://www.youtube.com/channel/UCIpAbxlxYaeRadoymD3Y6Cg
Original announcement tweet:
https://twitter.com/SplStrong/status/1530558333316374529
If you have any questions, feel free to reach out to me over Discord at $amino#3234. Hope to see you soon in the server!