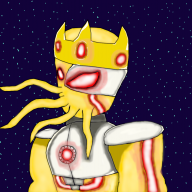 Joined

Mar 4, 2019
Messages

1
Hello you people may not really know me. Nor why a random person came out of the blue with introducing such a project.What is this project you may ask? Well I'm working on an animated adaption of the Splatoon hero mode DJ Octavio fight.I figured making my presence more known would be the best course of action for this project.
Here is scene 1 that I worked on.
This is the 3d model I made to get a better idea of the dimensions.
So far I'm working on scene 2 atm. Here is my current progress on scene 2.
If you already know me then you will know that I posted some progress on the squidboards discord. I will be occasionally giving updates as I progress through my project. Anyways I hope yall were interested in it.
Alright guys here's another update on my progress. I hope you enjoy the update. (btw changing their hair to orange to match the ink color and final boss fight.)
Last edited: