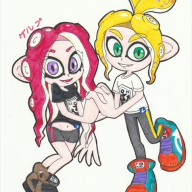 Joined

May 1, 2018
Messages

1,380
Location
There's something odd about Maritime Memory automatically playing right after the latest Splatfest. Why would Nintendo actually do this when Splatoon 3 isn't even close to being done with updates? Is it because of Splatoon 3's anniversary? If so, why play the credit song of Splatoon 1 of all songs?

I think it's because they might be starting to finish up most of the Splatoon 1-related content, thus setting up the stage for the Splatoon 2-related content, this is where Side Order would come in to introduce some of such content.

Another possibility is to give the veterans who have been with the series ever since the first game a look back (or listen back?) to the first game, ironically being the only game in the franchise not to have playable Octolings at all (which makes sense, as the relations between the Inklings and the Octarians were at an all-time low in Splatoon 1's timespan).

Either way, as a Splatoon 1 veteran who has switched to playing as an Octoling ever since beating Octo Expansion in Splatoon 2, Maritime Memory makes me remember my first time beating Octo Valley.