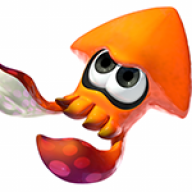 Joined

Jun 6, 2015
Messages

13
Hello!
Splatoon has a lot of personality, reflected not only through the characters' design, but also their speech. I've been interested in writing them down a while ago and perhaps analyse their personalities and possible back stories; I'm pretty sure some Splatoon Wikis will want to write down some quotes eventually. I written down some quotes mainly from Inkopolis News at the moment, but I plan to write down all responses from the shop keepers and all "intermissions" in Single Player. I realized I should be posting these quotes somewhere, and writing down quotes in general would go faster if I weren't the only one doing so, so here I am!
Any help to write down other quotes is appreciated. I'll continuously edit this post to add more quotes whenever possible.
(Note: Callie always talks before Marie, unless noted)
Basic messages
Hold on to your tentacles...
It's Inkopolis News time!

Let's unveil the current regular battle stages!
All right!

And now, the current ranked battle stages!
Splatastic!

Let's unveil the current Splatfest battle stages!
Wait for iiiiiit...

Until next time... (Happy)
Together: Staaaay fresh!

Updates
We've got some update information to share!
What is it? What is it?!
I love updates! (After Update)

(battle type) are now available!
Whoa. For serious?
Give it a go if you think you've got what it takes! (Happy)
Yaaaaaaay!

New battle modes are now available!
Oh, sweet...
You can play them in (battle type), so enjoy!
Staaaay fresh!

The stage selection has been expanded!
Oh, sweet...
Now there'll be even more variety in the rotation!
Staaaay fresh!
Booyah! (After Update)

More weapons are available!
Sweet...
We'll need to ask Sheldon for the deets. (Sad)

Some new gear has been added!
Aw, but I'm all outta cash... Time to get my battle on! (Sad)

Looks like the game has changed up a bit!
Oh, sweet...
Check the official Splatoon website for details!
Yeah yeah!

Introduction
News flash! News flash!
What is it? What is it?!

Inkopolis's Great Zapfish has... vanished! (Shock)
Wait, seriously? (Shock)

If it isn't recovered soon, are we gonna lose power? (Sad)
Oh, I'm sure it'll be fine... probably.

I wonder if it has anything to do with that UFO crash! (Serious)
Sounds likely to me!

Well, that's all for now! Until next time... (Happy)
Together: Staaaay fresh!

Ending
OK, it's late, but we've got a midnight NEWS FLASH!
Wait, what's going on?! What time is it?

The Great Zapfish is back on Inkopolis Tower! (Shock)
Whoa, for serious?! That's a shocker! (Shock)

Where was it anyway? I guess we'll never know! (Serious)
Well, hey, at least it's back now!

Yeah! Let's ROCK! (Happy)
At this hour?! Ehhhh, why not!

Urchin Underpass (7 +5)
Awwww! Some of these signs are pictures of us! (Happy)
Only some of them? Why not all of them?!

Road trip! Any cuties out there wanna go for a ride?
Let's use the airwaves responsibly, Callie!

Daah... I think securing the central area here is key?
I'd stage my attack from some of those side alleys...

Whoa! That's a big ol' underpass!
But don't stop to stare at it! There's battling to do!

The birds here are totes adorbs!
So you're...Team Bird, then?

Judd is great at his job, but.. man, he sleeps a lot.
I hear he's way more active at night!

OK, Marie. What's your favorite strategy here?
My strategy is to not give away my strategy. (Eyes closed)


I... Um... Uh... Stay fresh?
Can somebody please fix the teleprompter?! (Eyes closed)

Hey, do you have change for the vending machine? (Happy)
Maybe try asking when we're NOT on the air... (Sad)

The ice-cream shop near here has the best sundaes! (Happy)
Are there any restaurants you HAVEN'T been to?

I just saw a SUPER fresh car drive by! I want it! (Shock)
Didn't you just fail your driving test last week?

Didn't we do an undercover news story here once?
Don't remind me... (Shock)

Saltspray Rig (7 +4)
I hope those poor seagulls don't get all inked up!
Well, seagulls are natural predators of squid, so...

Uhh... This is, like, an oil field, right? Should we really be tossing explosives around? (Shock)
They're ink bombs! Not TNT! It's totally safe.

"Just grab the high ground and it'll be an easy win!"... Is what amateurs say. Then they get splatted.
But don't just stick to the low ground, either!

I love riding the elevators here! SO MUCH FUN! (Happy)
Sure. If by "fun" you mean ABSOLUTELY TERRIFYING!

Blech, the salt spray here really gets into my eyes! (Sad)
You know, salted squid is a delicacy in some places. (Sad)

Where does Judd go while the battle's going on?
Dunno... Probably eating fish. Doing cat stuff.

So, Marie, how would you plan your attack here?
Uhhhh... shoot lots of ink?


I remember learning about this place in school! (Happy)
Yeah, we studied it in Ink Battles 101!

Let's dive off of the rig! CANNONBALL! (Happy)
But you can't swim! None of us can!

Hey, Marie. Can you think of any good puns?
You know how much I hate puns. They're punbearable! (Shock)

Ah, staring at the ocean is so therapautic.
So is therapy.

Walleye Warehouse (8 +3)
Remember working here part-time back in the day?
Yeah, and how often you broke the assembly line... (Sad)

In a remote corner of a dimly lit warehouse... two brave inklings prepare to meet their destin-- (Serious)
BATTLING! They're battling, aren't they?! (Happy)

Get up high, and shoot the opponents from above! (Happy)
Or, you know, don't...

Try not to spray all of the cargo with ink, will you? (Sad)
Whatevs! The ink vanishes when the battle's over!

There are so many boxes passing through here!
At least the economy is perking up!

So many containers...! I wonder what's inside them!
Wouldn't it be rad if it was all Squid Sister merch?!

Judd always appears out of nowhere after a battle! I swear I'll never get used to that! (Sad)
His eyes glow in the dark! True story!

So, Marie! What are the hot strats for this stage?
Uhh... Try your best?


The best thing about working here was the food.
The best thing about working here was quitting. (Sad)

My team is always terrible on this stage!
Yeah, "your team" is terrible. (Eyes closed)

Next up, some letters from our adoring viewers! (Happy)
Are you trying to skip the stage-info part again?

Arowana Mall (8 +3)
Sometimes I come to this mall after work. But I always get mobbed by screaming fans! (Sad)
Hmm. They must think you're me...

The town's been booming since they built this mall!
Are you sure it's not the other way around?

We did a fan meet and greet here not long ago!
Stay tuned for more info about the next one!

Omigosh! Look, Marie! That outfit is adorrrrbs!
That reminds me, don't window-shop during battle.

Running around an empty mall is surprisingly fun! (Happy)
It's good exercise if nothing else!

The food court makes the best catfish burgers ever!
Eh, I'm more of a hot dogfish girl myself. (Sad)

They're selling shirts with Judd's picture on them! (Shock)
Well, he is something of a cultural icon. (Shock)

Hey, Marie, how would you tackle this stage?
Float like a jellyfish, sting like a... jellyfish? (Happy)


So, the key to blattling here is--
Hold up--did you just say "blattling"? Bahahaha! (Sad)

Redoing my makeup after a battle is such a hassle. (Sad)
You wear makeup? I wake up like this.

After battling, I love to unwind with a cuppa joe! (Happy)
Who's Joe?

Blackberry Skatepark (7 +4)
I'm bad at skateboarding... I'd probably break a bone! (Sad)
Squids don't have bones, but whatever...

I always accidentally splat innocent bystanders here!
Sure... "Accidentally"

This stage is all about close-quarters combat! (Serious)
Nah, I'd grab a charger and snipe from up high!

This would be a rad venue for an outdoor show! (Happy)
That's a pretty good idea, actually!

Palm trees! Aww, man, now I want coconut ice cream. (Happy)
Mmmm. With a slice of octo pie!

Judd fell out of a tree trying to grab a coconut! (Shock)
Don't worry--he has a lot of built-in cusion!

Marie! Give us some top secret tactics for this one.
Umm... watch your back. And your front!


The view from the central platform is really great! (Happy)
But don't stop to enjoy it, or you'll get splattified!

Did ya know the Blackbelly Skate is a type of fish?
Yup! One of my friends is a Blackberry Skate!

Look at this place! Today's youth are so spoiled!
Yeah, I am. (Eyes closed)

Callie: Watch me bust a sick ollie, brah! (Happy)
Marie: Oh, you'll bust something, all right. (Sad)

Port Mackeral (7 +4)
I've heard this can be a really romantic date spot!
Um...it's not. Trust me.

Holy mackerel! (Happy)
Sigh...

This stage has visibility for days. A charger would be totally money!
Word.

Making use of the containers here is crutial!
What's in those containers anyway? Maybe... CANDY?! (Happy)

If you run out from behind the crates all willy-nilly... you're gonna get splatted! (Sad)
Yuuup. I like to hide for a bit and catch my breath!

So... how exactly does Judd decide who wins a battle?
I have NO IDEA. I think he might have superpowers!

OK, Marie! Give us your very best tactical tip!
Hm... Winning is temporary, but looking cool is forever!


Going up against Blasters in this place can be scary. (Sad)
They can splat you around corners! It's totally OP!

C'mon, Marie. Give us a pun. Just one? Please?
Look at all the cargo! I can hardly CONTAINER myself!

I wanna try racing one of those forklifts around! (Happy)
Callie, you can barely ride a bike. (Sad)

I love the salty sea air that wafts through here!
It takes me back to our childhood in Calamari!

Kelp Dome (7 +6)
Everything grows great in here because it's so hot!
Hm... Hold a sec--I gotta go plant french fries!

So... I read online that ink is really good for plants! (Shock)
Seems legit.

Ah... It's always so nice and warm in the dome!
Yeah, it's nice if you like pitting-out all your shirts! (Sad)

This dome is a fully sustainable ecosystem! (Shock)
It's about to be a fully stained ink-osystem!

Hey! Did you know that when Gramps was a kid... there was no such thing as vegetables?!
Man... that is SO LUCKY! (Sad)

Hey, you ever wonder what Judd does on his days off?
Oh, I know exactly what he does. He sleeps. Allllll day.

OK, Marie! What's your advice for this stage?
Hair spray. Seriously, the humidity in here is chaos!


What are they studying in the Kelp Dome anyway?
Algae, brah.

I heard they grow veggies in here, too!
Ugh... Veggies? I'd rather eat a Splattershot. (Happy)

It's so humid here! Battling makes me super sweaty! (Sad)
Yeah, I need a cold shower just thinking about it. (Sad)

I saw a Super Sea Snail in here the other day! (Shock)
I hear they love to eat kelp!

Try flanking your enemies, then move in for the krill! (Sad)
You just couldn't kelp yourself, could you? (Sad)

You know, I don't get this newfangled dome tech. (Shock)
How old are you again?

Bluefin Depot (8 +3)
The depot looks like it could collapse any second!
No kidding! Glad I don't own a condo around there.

Watching all the ships sail by totally floats my boat!
...

That big iron bridge really defines this battleground... (Happy)
It's always in my way when I'm gettin' my snipe on! (Sad)

So, there used to be a train station here... But now there's not.
Cool story.

Man, this place is such a ghost town these days!
Totally! I've heard Gramps say he used to battle here.

I heard there's a glowing ghost haunting this place...
Um... are you sure that's not just Jelonzo?

Judd throws some killer secret parties down here! (Shock)
Shhh! What about "secret" do you not understand?!

All right, Marie! Hit me with a hot strategy tip!
Yeah! Uh... Stay in school.


Hey, it's a boat! I wanna take a trip somewhere... (Happy)
Let's go on a world tour when our album drops!

What do you and Bluefin Depot have in common?
When it comes to Turf War we're both pretty rusty...

Remember when we shot a music video down here?
How could I forget? (Eyes closed)

Moray Towers (6 +2)
This stage really towers over the competition! (Happy)
Ugh... (Shock)

Don't look down... Don't look down... (Shock)
NOOOOOOO WHYYYYY?! (I looked down.)

Rollers are super effective here! (Happy)
Chargers are the very best, like no gun ever was!

I love dashing across this stage with a roller!
It's all fun and games until I splat you in the face!

So...if Judd ever called in sick, what would happen?
I don't even want to think about that!

OK, Marie. Give us another one of your pro tips!
What goes up must come down...unless it doesn't!


Even though we're high up, Judd still sees everything!
He loves it here. It's like a giant cat tower!

It's so foggy I can't even see the ground! (Sad)
That's called draw distan— Er... It's smog. *cough*

Camp Triggerfish (5 +3)
Gotta be careful not to fall in the water here! (Sad)
Surprisingly, Inklings can only swim in ink. (Sad)

Look at all this space! Get ready to run... a lot. (Happy)
I'd rather just save my energy and use a charger.

We should go camping here on out day off. (Happy)
Why camp when I can just be lazy at home? (Sad)

We've been battling a long time. I can't remember a time when Judd wasn't the ref!
Some say he's been reffing since the dawn of time...

Marie, got any hot tactical tips for this stage?
Of course! Just, uh, believe in yourself!


Being here makes me feel like a kid! (Happy)
Really? I feel more like a squid. (Sad)

Let's roast marshmallows over the campfire! (Happy)
Splat that! Team Hot Dog for LIFE!

Marie, tell us all about this map!
Oh, um... Isn't the air here...uh...delicious?
Introduction
Before we reveal today's stages, some special news!
What is it? What is it?!

We've received word from... on high. (Shock)
You don't mean...?! (Surprised)

That's right! There's going to be a Splatfest soon!
OOH! What's the theme? What's the theme?!

Just a moment! The theme is descending as we speak!
Let's see it! Let's see it!

Aaaand it's here! We've got the Splatfest theme!
Let's hear it! Let's hear it!

All right then, I'll announce the theme!
*gulp*...

The theme for the upcoming Splatfest is...
Wait for iiiiiit...

Cats vs Dogs
It's time for the ultimate fluffy-buddy showdown! (Happy)
Woo-hoo! (Happy)

On one side, the Internet's favorite furballs... CATS!
And on the other, man's best four-legged friends... DOGS!

Marie: So, Callie, which do you like better--cats or dogs?
Cats forever! Team Judd! (Happy)

Marie: Not surprising...considering how much you sleep!
Heck yeah! Lazy Caturdays are the best! (Happy)

What about you, Marie? I'm guessing Team Dog?
Dogs for life! Woof! Woof! (Happy)

What about you at home? It's time to decide!
Head over to the Pledge Box and pick a side!

Results
Before we reveal today's stages, some special news!
What is it? What is it?!
Huh? Really? (After Update)

The Splatfest results are in!
Ooohhh!

First, we'll reveal which team was most popular!
Come on...

Next up...
Quickly! Quickly!

Time to see which team won the most battles!
Bring it on!

No hard feelings either way, yeah? And finally...
The final results?!

That's right! The winning team of this Splatfest is...
Come on, come on...!

Result responses
Bada-bada-bada-bada...
Wait for iiiiiit...
Together: Boom!

Cats vs Dogs popularity: 38% - 62%
Cats vs Dogs win: 51% - 49%
Roller Coasters vs Water Slides popularity: 46% - 54%
Roller Coasters vs Water Slides win: 53% - 47%
Marshmallow vs Hot Dogs popularity: 64% - 36%
Marshmallow vs Hot Dogs win: 48% - 52%
Autobots vs Decepticons popularity: 58% - 42%
Autobots vs Decepticons win: 44% - 56%

Callie wins
Awwww yeahhhhh!! (Happy)
Urrrghhhh... (Sad)

(After Update)
Oh yeahhh!! (Happy)
Aw, man... (Sad)

Marie wins
Awww... We lost... (Sad)
Yay! (Happy)

(After Update)
Noooooo... (Sad)
Heheheh! (Happy)

Final results
Cats vs Dogs (140 - 160)
Marie: Team Dog represent! (Happy)
Dang it... (Sad)
Great job, my fellow dog lovers! Woof! Woof! (Happy)
Team Cat looked cooler, though... Love you guys!
Callie: If you participated in the Splatfest, don't forget...
Your prizes are waiting in the plaza!

Roller Coasters vs Water Slides (152 - 148)
YEEEEEAH! Coast to coast, baby! (Happy)
Urp... (Sad)
The coasters with the mosters! (Happy)
That's not a real word.
If you participated in the Splatfest, don't forget...
Your prizes are waiting in the plaza! Peace!
Introduction
Th-Th-the... Oc-Oc-Oct...
The Octarians are coming!
NOOOOOOOOOOOOOOOOOOOO!
Oh, uh, hi... Guess I lost my cool for a minute there!
I'm Cap'n Cuttlefish, leader of the legendary Squidbeak Splatoon!
That look in your eye... It's the look I've been lookin' for!
The Great Zapfish that powers Inkopolis has been squidnapped!
Nobody believes me, but it's the work of the Octarians! I just know it!
They want revenge for the Great Turf War of 100 years ago!
I've been keepin' an eye on them this whole time, of course...
But they stole the Great Zapfish right out from under my nose!
Please! You gotta help me rescue the Great Zapfish!
...
... ...
So...
I'm gonna take your silence as a yes.
Starting today, you are Agent 3 of the New Squidbeak Splatoon!
This is your brand-new Hero Suit! It'll help you fight the Octarians.
What a great fit!
(For a hand-me-down from Agents 1 and 2...)
Now let's go get those Octojerks! I'm countin' on you, bucko!
Final Boss (First time)
Cap'n: Stay back, Agent 3! It's a trap!
1: Figures...
2: But we don't have a choice!
DJ: GYAH HA HA! I'ma remix your face!
Y'all ready for this?
Grraaargh?!
Slimy little hipsters!
1: After him!
2: Watch out, Agent 3! He's packing a mean laser!
DJ: Peep THIS!
BLGRRARGH!
You can't handle my spicy wasabi beats!
1: Oh, it's on!
2: He's got something up his sleeve, Agent 3!
DJ: You 'bout to get MASHED UP!
GHRAAAAAGH!
Do you even know who you're messin' with?!
1: Way to be, Agent 3!
2: Blast those Octorpedoes!
DJ: It's time to... D-D-D-DROP THE SEA BASS!
GHHROOOORUGH!
How dare you!
DJ: What's this? Where mah beats?!
1: Agent 3! Can you hear our song? (upside down)
2: Radio override activated!
Cap'n: Huh?!
That heavenly melody... It's the one and only SQUID SISTERS!!
1: Don't you ever worry your granddaughters like that again!
2: Agent 3! Take care of Gramps for us, 'kay?
1: Final push! Chaaarge!
2: As they say-sometimes the best offense... is running for your life!
Cap'n: Just a little farther, Agent 3!
DJ: I'MA DUBSTOMP YOU INTO OBLIVION!
Cap'n: Now! Finish him!
DJ: Oh no... So sad...... (upside down)
Cross-fade... to black... (upside down)
Final Boss (Rematch)
Cap'n: Help! DJ Octavio escaped while I was eating my crabby cakes!
1: You've gotta be squiddin' me! Gramps got captured AGAIN?
2: That's convenient...
DJ: GYAHAHA! No snow globe can contain this DJ!
1: Gramps, are you sure you're not getting captured on purpose?
2: Sorry you have to rescue him again, Agent 3!
1: Hey, um, Gramps? I don't think I can make Squidmas this year.
2: Yeah, we're filming our holiday special on Squidmas morning!
1: Hey, remember when we won that singing competition?
2: Of course! That competition jump-started our careers!
DJ: I'll turn you into a RADIO EDIT!
1: Agent 3? Come in, Agent 3!
2: Radio override activated!
Cap'n: About time!
Turn it up! It's the SQUID SISTERS!!
1: So embarrassing...
2: Do we have to take away your crabby cakes, Gramps?
1: I think he's just lonely. We should probably give him a call soon.
2: But Gramps doesn't have a phone. We'll have to send a telegraph.
Cap'n: Finish him, bucko!
DJ: Not again... So sad...... (upside down)
Cross-fade... to black... (upside down)
Last edited: