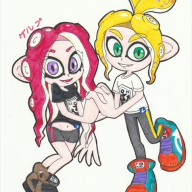 Joined

May 1, 2018
Messages

949
This is a group of short fanfics about my Agents 3, 4, and 8. Just something to do for fun and to train my storytelling skills.
The Fear of a Chaotic World​
After the Chaos vs Order Splatfest, Agents 3 and 8 are unsure about the future of Inkopolis while Agent 4 is celebrating his victory with the Chaos group, not knowing the consequences of a no rules Inkopolis. Agent 3 is worried both for his best friend Agent 8 and for Inkopolis in general since the no rules concept is a double-edged sword. Agent 8, who was also on Team Order along with 3, is now divided on which sort of world is better for other Octarians. While 8 does not miss his previous life as a brainwashed soldier for DJ Octavio's army, he still feels bad for abandoning his Octarian friends, most of them not even Octolings. On one hand, an Inkopolis with no laws would allow his Octarian friends to reach the surface without the law enforcements forcefully kicking them back into the underground, but on the other hand, DJ Octavio was on Team Chaos, so 8 isn't sure how to feel about the very person who hypnotizes Octarians to take over the surface. 8 just wants both Inklings and Octarians to coexist in the same city.
Either way, now Inkopolis is going to be more chaotic, how chaotic? No one knows, "This is not good, we're already seeing the effects of Chaos winning, why did my brother 4 join Chaos again? We'll never know." Agent 3 says. Agent 8 agrees and says, "I hear the Salmonids have gotten more aggressive as well, I remember a shift the other day and I was surprised by how many waves had Chums charging at us like they were under the effect of Glowflies."
Agent 3 is worried about his Inkling girlfriend, he seems to spend a lot more time with her these days just to make sure she's okay. Agent 8 on the other hand now lives with his Octoling girlfriend so he can keep her safe from the Great Turf War veterans who want to keep Octarians underground. Agent 8 moved out of Agent 4's apartment because he didn't like the mess that his roommate kept leaving on purpose, most of the time just to spite 8 about Chaos winning.
Last edited: