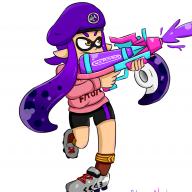 Joined

Sep 3, 2016
Messages

33
I recently bought Splatoon 2 for the switch and I decided now was the time to return here, I have changed a lot since I last logged in.

Anyways, my name is Rain but I'm fine with being called Neon. I use she/her pronouns and I live in Ireland. I used to be apart of a group here called 'Squids to the Past/Splats to the Past' so if you were in that group, then hit me up! I'm an avid Homestuck fan and I also enjoy watching anime and collecting manga.

Also, if I have ever said anything dumb/insensitive in the past I apologise for that since I was a lot younger back then and I didn't know any better.