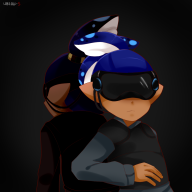 Joined

Nov 9, 2015
Messages

174
The next day Hunter wakes up and goes through his morning routine but has some difficulties with everything. After his morning routine he goes downstairs to have some breakfast. He eats in silence but his mother knew something was eating away at him.

After breakfast he heads into town to at least try to keep a normal life going. When he arrived at Ammo Knights Sheldon stopped Hunter. "My oh my..what happened to you?"

Hunter looks away from him. "I don't want to talk about it….any guns needing repairs?"

Sheldon nods. "Always have some lying around. Take your time and dont push yourself."

Hunter nods and heads into the back. He looks at the various weapons waiting for repairs. He get to work on a roller first. It was in ok condition but the roller was jammed up with something. Hunter tries his best to find what was jamming it before taking it outback to test it.

The test was going well till it jammed up again. It happened so suddenly the pole went into his gut and he pole vaulted over it. He lands hard on his back and just lay there. He was starting to doubt himself. He was sure he fixed the issue. When he got up and looked at the weapon it was completely broke now. He roller was no longer attached to the handle and the handle was bent.

He takes the pieces into the back and makes a note to pay for a replacement. He then tries to work on a E-Liter with a clogged storage chamber. He cracks open the seal and quite a bit of ink comes spewing out making a bit of a mess. Luckily it the turf war self evaporating ink.

He waits a few minutes for most of the ink to evaporate away before continuing his work. He begins examining what was causing the clog and then starts working on fixing it. Turns out it had an illegal modification to it. So he had to call sheldon into the back to show him.

Sheldon was shocked to see a Barrel Compressor inside of it. "That would have caused some real damage if it was ever used in turf wars."

Hunter nods in agreement. "Good think it jammed the reservoir instead. I want you to inform the police about this illegal modification and the person who turned it in."

Sheldon nods and quickly runs off to get the police. Hunter sets the weapon aside and resumes work.

The police came around a few minutes later to claim the weapon and modification. Giving Hunter a small metal for his efforts. Hunter had several of these as players always try to sneak illegal mods past judd

He continues to work each with just as much failure rate as the roller. The last weapon was a splatterscope that had a dented barrel. He fixes the barrel but like all weapons before it when he tested it the weapon broke. This time the tank exploded sending Hunter into the wall. Sheldon heard the explosion and goes to check on Hunter. He finds him laying in a puddle of ink with a distinct weapon detonation splatter on the ground.

When Sheldon approached he could hear Hunter crying. "What's wrong hunter?"

Hunter doesn't move from his spot. "Every weapon i tried to fix i ended up breaking."

Sheldon was shocked by this but tries to comfort Hunter. "Its ok Hunter...i'm sure it's just coincidence that they all broke."

Hunter doesn't reply just stays there crying. Sheldon feeling really bad goes to make a phone call. A few minutes later Marie shows up wearing her disguise from their date. She sees Hunter just laying there crying.

She moves over to him. Having some issues with the ink in the way. Once next to him she lifts him out of the puddle of ink he was lying in and looks him over. There were a few cuts on his face from the explosion but luckily nothing permanent. "Hunter calm down."

Hunter looks at marie and hugs her still crying. "I cant do it...I tried my best and it all went bad."

Marie hugs Hunter. "Its ok Sheldon told me. Look you tried that the thing you need to take from this. You tried your best and you had some success."

Hunter starts to calm down a bit and breaks the hug. "But it wasn't enough...i now owe sheldon so much money to replace the weapons i broke."

Marie smiles at him. "You tried your best. Though today might not have the best result you at least held up your promise and tried."

Hunter smiles a bit. "Thank you Marie...but what do i do now...i dont have the money to cover the 10 guns i broke."

Marie sighs and helps Hunter onto his feet. "You can start by telling Sheldon maybe you two can work something out."

Hunter nods and heads to Sheldon. Sheldon looks at Hunter worried. "Everything ok?"

Hunter shakes his head. "I tried but i broke 10 guns...i dont have the money to replace what i broke."

Sheldon sighs and looks at Marie who was behind Hunter. "I can foot the bill this time. But i really did expect more from you Hunter."

Hunter looks down. "I'm sorry Sheldon."

Sheldon sighs. "Don't beat yourself up. Today just wasn't you day. Just...spend time with your girlfriend and hopefully things will end up being better."

Hunter nods and heads out. Marie follows Hunter and once she catches up with him grabs his hand. "Come on. Let's do something that will cheer you up."

Hunter sighs. "I don't know tinkering with things always made me feel better after a bad day...but i'm afraid to try."

Marie kisses his cheek. "I'm here with you Hunter no need to be afraid."

Hunter nods. "Ok...lets get some stuff then."

Hunter takes Marie over to the junkyard there were lots of various piles of scrap metal lying around. Hunter passes the yard and goes into the warehouse. When he walked in he was greeted by a rather large Octarain. "Hey Hunter glad to see you are still around...who is this lovely lady?"

Maire smiles at the octarian. "Im Hunter's girlfriend nice to meet you sir."

The Octarain laughs. "Name's Roy. Hunter here loves buying some junk. So i went and opened up this little shop. And sure enough money has been flowing in like crazy. Hunter isn't the only junk collector out there."

Maire looks around at the various machines. "I should have come here sooner i see so many things that look intresting to tinker with."

Hunter chuckles. "Welcome to my world"

Maire laughs and punches Hunter. "Very funny"

They dig through the various piles of stuff looking for things to tinker with before heading to Hunter's home.
Maire and hunter leave with quite a few various things to tinker on. "That was quite alot of things i would want...but we forgot to bring stuff to carry the stuff."

Hunter chuckles at Marie's comment. "I can never walk away from that place without the feeling i left some piece of gold behind."

Maire laughs. "That is exactly how i feel right now."

They joke around a bit. As they make there way to his home. When they got to the door they notice someone leaving the home. Maire waves as best as she could with stuff full of junk. "Hey Clementine!"

Clementine waves back and moves over to them. Hunter recognized her as Agent Orange. "Oh hey there you two. So you two planning something with all that junk?"

Maire nods. "Im going to be tinkering with Hunter today...why you stop by here? Thought you would be busy with the splat tournament practice since its only a few days away."

Clementine laughs. "Nah we wanted to take the day off. No need to overwork ourselves."

Maire nods and looks at Hunter. "Well lets not catch a cold out here."

Hunter smiles at Marie. "Its not that cold out here."

Clementine takes her leave but stops for a second. "Oh forgot to say this. Hunter we found your grandfather's mask. One of the workers at the plant was kind enough to return it."

Hunter smiles at her. "Thank you for bringing it back to me."

Clementine waves and leave to goes to enjoy the rest of the day. Hunter and Maire head inside and were greeted by his mother. "How has your day been?"

Hunter looks down. "Bad...i messed up at Ammo Knights."

His mother looked at him worried. "It will be ok. Just take your time.

Hunter nods and walks upstairs with Marie. They place the junk down on his desk that he uses to work. Hunter had laid down on the bed wanting to clear his head for a bit. Marie kisses his forehead before heading downstairs to help his mother cook supper.

As he laid there he closed his eyes and tries to clear his mind of the bad day that happened. The room was silent due to soundproofing he put up to keep the noise he made stay in his room. Which was his father's request. A few minute later he could feel someone watching him. He looks over at the window and both it and the blinds were closed.

He sits up and looks around his room. Unable to see what could be giving him the strange feeling. He pushes it to the back of his mind and heads downstairs. Marie was helping cook some cupcakes while his mother was cooking some pork. "Hunter! Almost done here i will be up and we can start tinkering."

Hunter nods. "Take your time i need to get some tools awayways. I have my set but i dont have any spare."

Maire smiles at Hunter. "Ok just don't be long."

Hunter nods and heads off. He didn't have to go far as a few blocks away was the Hardware store. On the way there he still felt eye on him. Someone or something was watching him. He arrived at the hardware store without incident. Jack the store owner waves at Hunter. "Didja break another bit?"

Hunter chuckles. "No not yet. But i need another set for my girlfriend."

Jack laughs. "Well well well seems the little tinkerer got himself someone that sounds like a keeper."

Hunter nods and blushes. "Yea she is worth keeping."

Jack keeps laughing as he goes into the back to assemble the kit. He left the door open so he could listen to the store. "You want a basic or advanced kit?"

Hunter was looking around at the various tools when he hears Jack's voice. "Um..Advanced kit. She has been doing some tinkering on her own...and can i get a travel case for them?"

Jack laughs. "Big spender eh...she better appreciate this like you did when you first got the full kit."

Jack finishes in the back and walks out with a hard case filled with the tools. "I will cut you a deal on this and have you pay for a basic kit and the case. Since its a gift for someone speical to ya...that and you did overpay last time you were here. It was a mistake on my part."

Hunter was surprised by the generosity but accepted it. "Thanks Jack"

Hunter pays for the kit and heads home. Jack waves bye to Hunter as he leaves. On the way home Hunter didn't feel the sensation of someone watching him. Which helped to calm him down. Upon arriving at home Marie was cleaning the kitchen while she waited.

Hunter waves at Marie. "Hey Marie i'm back"

Marie smiles and quickly finishes before walking over to him. "Thats a big kit."

Hunter chuckles. "Yea its the advanced kit with travel case."

Hunter opens it up revealing all the various tools a tinkerer needed minus power tools. "This is your tinkers kit. Take care of it and it should last a long time."

Marie takes it and closes it so she didn't drop the tools accidently. "Ready to start tinkering?"

Hunter nods and heads upstairs with Marie. He sits down at his desk Maire taking a spot next to him and they begin working on something together.

About 30 minutes in they had a final design for what they want it to do. But supper was ready so they went downstairs to eat. The BBQ pulled pork was really good when they had there desert Marie playfully put some of the icing from her cupcake on his nose. "Hey!"

Maire and hunter's mother laugh at the little prank. Hunter cleans off the iceing and hugs Marie. "The cupcakes are delicious."

Maire blushes. "Thank you Hunter."

Hunter mother chuckles seeing them being so happy together. "I will clean this up. You two go back to tinkering."

Hunter nods and takes Marie's hand and walks back up to his room. Once there they start working on dismantling the various things they got at the junk store. Hunter was having some difficulties but marie was there to keep him calm and help him work through it.

Around 2 in the morning is when they stop. Maire didn't want to break curfew just to get home so she called Callie and tells her where she would be staying. Once that was out of the way she goes to get ready for the night. She borrows a T-shirt and shorts from Hunter to sleep in.

They get comfortable in bed together. Marie kisses hunter before snuggling up next to him. "Good night Hunter."

Hunter smiles at her and returns the kiss before wrapping his arms around her. "Good night Maire"

Hunter and Marie eventually drift off to sleep.
He was in Inkopolis running through some alleyways. When he tried to stop he couldn't something wasn't right he wasn't in control of his body. He exits the allways there were cops aiming their guns at him. "FREEZE!"

He could only watch as he jumped to the side and shoots the cops. "Please stop...why are you doing this! Stop it!"

His words never left his mouth as he began chasing down innocent people and shooting them dead. Anyone who ended up in his sights were killed on sight.

Someone lands behind him and he turns around to sees Agent 2. "Please Hunter STOP! you don't need to do..."

He had shot her in the chest. He closes his eyes not wanting to see her like that. When he opened his eyes again he could see Marie leaning against a tree. Shortly afterwards Agent 1 shows up but he readied his weapon and unloaded several shots into her. Seeing the look of fear on Marie's face scared him. "NO….NO!!!! STOP! Please STOP!!"

Again his words never left his mouth as he approached Marie ready to kill her. Its at this moment he turns to see Agent blue coming in with his roller. He dodges it but get shot. Its at this moment He jerks awake.

He bolts from his bed confused and scared he ends up under his worktable in his squid form. Maire felt this sudden motion and quickly jumped out of bed looking for an attacker. She turns on the light and doesn't see Hunter. "Hunter! Where did you go!"

She look around and finds him shaking under the table. She looked worried as she picked him up. "There there...Come on now calm down and tell me what happened."

She lays him down on the bed as he changed back into his human form. He was still shaking as he tells her everything that happened in the dream. She went pale and this only had made Hunter even more scared. "Hunter….what you just seen...was a few months ago. When you….lost it and began killing people."

She looked away from him and rubbed when she was shot. "Both me and Callie were also in your crosshairs….If it wasn't for Agent Orange and Blue…."

Her silence said enough. Hunter felt sick and left for the bathroom. Marie stays there unsure what to do. She contacts her grandfather in hopes he might shed some light on the situation.

Hunter had thrown up when he got to the bathroom. So he was cleaning himself off from that. When he looked into the mirror he questioned who he was seeing in it. The thought that Sketh did those things just made him feel sick again.

Marie walked over to the bathroom with her phone. "Um...Hunter...Cuttlefish wants to talk with you."

Hunter looks at her confused and takes the phone. "Hello?"

Cuttlefish's voice comes through the phone. "Hello Hunter. Marie tells me you saw what the other you did when you weren't aware of it. I'm sorry you had see that. That all is in the past don't dwell on it too much. You have done so much to redeem yourself. That's all that i can say, but it would be best if you talked to someone you trust."

Hunter looks at Marie who was standing in the doorway worried. "Thank you sir...I will try my best to get past this." He hangs up and hands the phone back to Marie. "Can...We just sleep...i dont want to talk about it right now."

Marie sighs. "Ok...we can talk when your ready"

Hunter nods and they both head back to bed. Once back in bed they drift off to sleep. This time in his dream it was just a white void. He looks around confused. Every now and then he would see a shadow but it would vanish before he could get a good look at it. "Hello!"

His voice just echoes in the endless void. He hears something behind him and when he turns around he sees himself. He jumps back but notices it's just a mirror. "What the?"

As he stared into it violently shifted like a damaged video glitching out. He backs away from the mirror unsure what it was. The mirror explodes and where he was standing in the reflection was himself. "No...It cant be...I killed you!"

The second him faded into dust and a voice began echoing throughout the endless void. "Once separated it can never be whole again. If either shall die the other will die with it."

Hunter looks around trying to figure out where the voice was coming from. Everytime he looks in the direction it comes from he sees himself before it glitches away. "What do you mean! Answer Me!"

He feels hands grab him and force him to the ground. "But you already know the answers. The question is who are you."

He wakes up again with Marie shaking him. He was in a cold sweat and grabs Marie's arms fearing she was attacking him. He calms down once he sees it was Marie. "Hunter i think we need to talk about it now….A second nightmare in one night can't be good for you."

Hunter looks away from her. "I don't know what to say...I...don't even know what the nightmares even mean."

Marie hugs him. "Its ok. Just say anything. I dont want you to feel like your alone in this."

Hunter turns around and Hugs Marie. "Thank you"

They talked for an hour before falling asleep in eachother's arms.

That morning Hunter wakes up before marie so he goes to do his normal routine and lets her sleep in a bit more. When he was brushing his teeth he looked in the mirror. He was expecting to see Sketh looking back at him but he didn't which made him feel good about things right now.

Upon leaving the bathroom Marie was standing there waiting. She was wearing one of Hunter's T-shirts and Shorts. She hands him her clothes. "Hunter can you put them in the wash. They are kinda my only clothes i brought and i got them a bit dirty on our little project yesterday."

Hunter nods and takes the clothes. "Ok" He heads off to do some laundry as Marie does her morning routine.

His mother was cooking breakfast it smelled like her famous blueberry waffles and scrambled eggs. As he was doing the laundry he feel someone grab his shoulder when he turns around he sees no one was there.

He was a little weirded out by that but just figured it was just the remanence of those nightmares from the night before. He calms down and quietly hums to himself as he finishes the laundry. Maire walks in behind him. "Whats that your humming?"

Hunter looks at her and blushes a bit. "Its really nothing. Something i was tinkering with ended up having a rather odd rythem to it so i just started working with it and make up that song when i was 10."

Marie giggles. "It sounded nice. Maybe one day we can make it a beat for a song."

Hunter looks at her supprised. "You...you really mean that?"

Marie nods. "Yea."

The dryer buzzes at that moment. "Oh your clothes are finished. You can change in my room. I will be in the kitchen."

Maire nods and after she gets dressed they enjoy some breakfast before Marie had to leave for her job as a celebrity. "Remember hunter You are in control of who you are. Just stay strong in your beliefs and let nothing sway you otherwise."

Hunter nods and waves bye as Maire left. He returns to his room and gets back to tinkering.
Last edited: