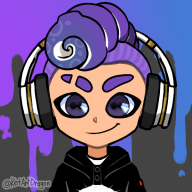 Joined

Mar 7, 2023
Messages

5
NNID

clumsyghosty
Switch Friend Code

SW-6552-4215-5813
Genuine question, and if you have a negative opinion keep it to yourself. Constructive criticism/advise ONLY.

Anyway, I wanna know how the warning system works on Splatoon, like for example, if you get disconnected multiple times, what are the penalties after specific amounts?

I have serious anger issues (which I'm actually on meds for, but I forgot to take my meds today). I usually grind in turf war for money, but I can barely focus/aim well due to being sleep deprived. I'm just doing it for the money because I want crap from Hotlantis, as well as the gumball machine, as well as Murch stuff.

In the match before my last one I kinda rage quit because the other team was constantly camping in one same spot near our home base and honest to God I'm glad I wasn't near those people in person.

I do have a habit of throwing my controller at my desk, it actually has a few scratches on it because of it and it's brand new.

Either way, I just wanna know how many warnings would I get for going afk and how the penalties would work, depending how much it happens.

I didn't quit in my last match although I still raged. So I kinda don't trust myself in the future, but hopefully I won't have to grind THAT much today, so I can take my meds at the time it's supposed to be and tomorrow will be a much better day.

Disclaimer #1: Sorry if my post sounds a bit aggressive, I copied and pasted from another social I posted it at, and I really dislike some members in that group, that's why I typed it like that. But I have no beef with anyone here so keep that in mind. Thank you in advance.

Disclaimer #2: I have 4 mental disorders (3 from trauma and one genetic), all of them affect my mood directly. I was actually staying at a ward recently for a week, so the meds I'm taking are what's left over from then, because I can not afford therapy whatsoever at the moment. I'm currently on Zoloft. So yes, I'm not exaggerating or "faking it" when I say I have anger issues. And yes, I KNOW I shouldn't play competitive games at all, but I can't help but to really like Splatoon and it's world.

Disclaimer #3: My name tag is Ghosty. If we've played before, and you have blocked me or actually want to block my Nintendo account, please do so, I won't take it personal and tbh you'd be doing me and you a favor.
Last edited: