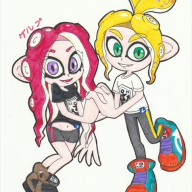 Joined

May 1, 2018
Messages

1,380
Location
There has been a noticeable lack of new content this time around that's not cosmetics. Heck, some of the gear has been repeated for this Seasonal Catalogue. They still have Side Order to show, so it makes sense for them to start showing more of it in a similar way they did with Octo Expansion.

I still remember their tweet for when the DLC was first announced, but that will inevitably go into story speculation, so I won't be bringing that here.

It also seems they are specifically trying to hold back Splatoon 2-related content, the fact that we have the Splatoon 1's mascot gears but not Splatoon 2's seems very weird to me, like it's a deliberate decision to hold back those pieces of gear. Another weird lack we have is the weird lack of gear from enemy Octolings. In Splatoon 1, we got the enemy Octoling gear without having to wait for an update, in Splatoon 2, the enemy Octoling gear was a reward you could get from the Octo Expansion, but in Splatoon 3? Nothing. This makes me think Nintendo is starting to run out of options to postpone official information about Side Order.