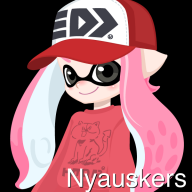 Joined

Nov 29, 2015
Messages

18
Originally banded together through Reddit since 2015,
Day Old Sushi
(DOS) is a group of older players ranging from just close to 30 years old all the way up past 40. We are open to all new members and have both casual and competitive players to suit all of your needs.
We mostly invade each others' Turf Wars, play squads and participate in Private Battles with and against each other. We sometimes have themed Private Battles for fun as well. We have participated in LUTI Krakon Division for 4 seasons and had two seasons of our very own mini league.
Our main method of communication is Discord. We use voice chat for competitive play and also for fun during our Private Battles.
Requirements
Age:
Must at least be close to 30 years old.
You'll understand this once you're our age.

Rank:
All ranks and levels are welcome. We have players at every rank imaginable all the way up to S+.
Attitude:
Must not disrupt our group harmony with racist and/or otherwise insensitive/inappropriate comments and jokes. Basically, just don't be an ***.
https://www.youtube.com/channel/UCXH8lyuZSv8lY9byJ5Moa4w
https://www.youtube.com/channel/UCuVnhjAn0uEZxVV8sgpnOcg
If you are interested in joining please provide the following information.
Name you want us to call you by:
Age:
Rank and Level (optional):
Main Weapon (optional):
Last edited: