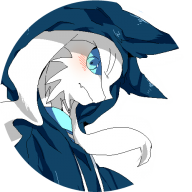 Joined

Apr 1, 2016
Messages

454
Location
NNID

Cuttleshock
Switch Friend Code

SW-6317-8240-9812
Cuttleshock, hats off to you. You have the lungs of a pearl diver!
Thank you! Years of casual training: the ability to hold one's breath is something that I've always felt could genuinely come in handy (also, I get competitive in
everything
, so beating other people at holding breath is fun for me), so, on occasion, if I've got nothing better to do, I try controlling my breathing strictly or just timing how long I can hold my breath. Also spend periods underwater whenever I have a bath. I can do about two minutes now (without activity; if I'm moving, it's probably not far over a minute at best). The world record, of course, is something ridiculous close to 20 minutes, so it's not much in the grand scheme of things...