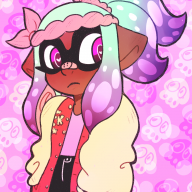 Joined

Oct 21, 2015
Messages

0
Location
Hello!! I am Sapph and i want to draw ur inkling!
Please look at these "Rules" before you post a request:
You have to have a picture of your inkling:
//it can be a photo/screenshot from the game or
//a drawing u or another person made or
//a picture from the squid maker thing (idk what its called)
the picture has to have color
--------------
(if you want anythign changed like another hair color , just tell me :})
If ur request doesnt involve any of these thing i will not draw it,sorry
it will look something like this:
(size: 2000x2500)

you can use your picture as avatar
but only if you credit me in your signature !!

Reila
RamenNoodles
calthax
Chaos_Knight
Shy
AlphaOmegaSplatter
G1ng3rGar1
ThatSquidYouKnow
KunoichiSquid
LopunnyLove
Oxenfree
CAPTAIN C
tanzinyagrill
Jazzy-Squid94
Last edited: