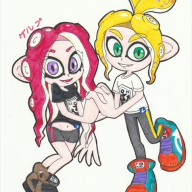 Joined

May 1, 2018
Messages

1,427
Location
I don't know where to put this thread, so feel free to move it to a more general Splatoon section, but I just wanted to make a thread specifically to remind us of the lore that we have gotten, here are a few to get this started:

The Splatoon's version of the watermelon (I think it was called the Squid Melon?) can actually have its insides change color if it absorbs ink.

Inklings love fruits, and those said fruits are grown straight from Kelp Dome.

The Salmonids' ultimate goal in life is to be eaten and are not afraid of dying.

The fishing lure from Agent 3's armor (and its replica) is designed to attract the opposite sex.
Last edited: