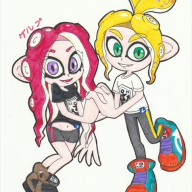 Joined

May 1, 2018
Messages

1,380
Location
I also predicted the theme to be lifelessness! And the best part is, finally an antagonistic group in a story mode that's not a version of the Octarians! So I'm going to edit this later as more screenshots come in. From here on out, there will be potential spoiler content.
The trailer starts off similarly, but this time, there's a Pearl-themed drone that acts as a communication device for Pearl herself.
This also semi-confirms that this character is Agent 8. As seen by the eye marks and tentacle design.
The same drone also carries Agent 8 (or not-Agent 8) into the missions, also revealing that at least one of the missions will take place in a factory of sorts.
New type of goal to splat which also...
...spawns enemies!
Last edited: