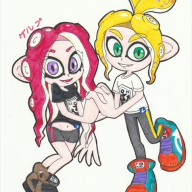 Joined

May 1, 2018
Messages

922
I know I have made a Splatoon 3 related thread last year, but that was just for story. This one will encompass things in Splatoon in general, also feel free to state your own wishes and predictions. Without further ado, here are my wishes and predictions for Splatoon 3.

My predictions: The story mode will be basic with a few key features taken from Octo Expansion, like acknowledging that the new player Agent can be either an Inkling or Octoling. And if a previous Agent return, you get to customize them first as it was the case for Agent 3 during Octo Expansion. Allowing for canon to be personal rather than universal (which personal canon is better for this game anyways).

No new playable species in the base game, but the base game will foreshadow their existence. This happened in Splatoon 1 where DJ Octavio appeared in his humanoid form along with Cap'n Cuttlefish, thus foreshadowing the existence of male Octolings. Splatoon 3's foreshadowing might possibly be from a new character who is important to the plot and whose head will be completely covered, either by a hoodie with a mask, or a helmet similar to both game's Power Armor. The new playable species would become playable through a DLC story mode. Also, Octolings are playable from the start.

The return of Salmon Run, this one is pretty much obvious. Salmon Run added a team mode that played against the A.I. rather than other players. I'm pretty sure Nintendo wants to keep that mode in the game. New Salmon Run modes might also be possible, like instead of collecting Golden Eggs, it could be a fight for survival sort of thing, like making barricades to slow down the Salmonids' advance toward players. Making this a zombie-esc kind of survival.

My wishes: New antagonist for the base-game's story mode, I think that the Octarians already run their course as villains, especially with the fight against Octavio in the first game just couldn't be topped by the second game's Octavio fight. Plus, by the time that Splatoon 3 happens, Octarians in general would be able to be found above-ground living peacefully with the Inklings, this was already started by Octolings, so it's only natural for other Octarians to live above-ground as well. Speaking of that...

The option to have a companion species follow you around Inkopolis, not necessarily a pet, but it can also be your non-battling buddy. A few that would come in mind in the pet department are the Nudiibranch (or however that animal's name is spelled), a Sea Snake and even a Turtle. In the buddy department could be a Jellyfish, an Octotrooper (without the vehicle) who would have the same tentacle color as your character does or even a Fish. I think this would make the world of Splatoon a lot more lively. As a bonus, other player's Inklings and Octolings would also be seen with their companions if the players of those characters chose to have one. Like for example, you play as an Octoling and your companion is an Octotrooper while another player that you see in the lobby chose to play as an Inkling who has a Sea Snake companion.

A lot of the confusing lore to be explained, Splatoon as a series already have a lot of confusing lore. An example being, what kind of meat-like foods that Inklings and Octolings eat aside from what Crusty Sean offers? Having the confusing part of the lore being explained would make me enjoy the game even more. Granted, they can still keep some of it a mystery, like the identity of Mr. Grizz.
Last edited: