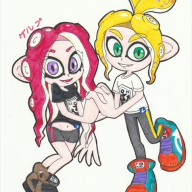 Joined

May 1, 2018
Messages

1,287
Location
There are actually a few things of note, but one of them actually gets me very excited, which I will mention after listing them:

First is that we are not going to see a new type of King Salmonid, at least according to the locker decoration reward, which is just a bunch of common Salmonids in one figure.

Next is that Undertow Spillway will be the next stage up for Big Run.

Finally, the Scales earned by fighting King Salmonids are going to be doubled.


Of these three, I'm definitely most excited about the Scale doubling reward. With so much expensive stuff to spend your scales on (seriously, why is there a banner that costs 999 Silver Scales?), this will finally provide a much-needed boost to get those expensive rewards.