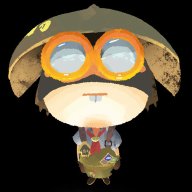 Joined

May 9, 2020
Messages

76
NNID

elbowtross256
Switch Friend Code

SW-2068-8505-2901
Welp, it's been almost a year since Splatoon 3 came out. Where does the time go?
The end of Sizzle is right around the corner and Drizzle is going to take its place. We'll likely be getting an announcement sometime next week. Of course we will get new weapons, maps, gear, but what else could be in store? A new ranked game mode? More news about Side Order? A new king salmonid? A new sub weapon?
I'm still gunning for Urchin Underpass to return. And considering that Splatoon 1 is living on borrowed time, I would love to see it again before the inevitable happens. On the other hand, excluding D'Alfonsino, the other Splat1 maps got downgraded in transition to 3 so maybe I don't want that. Honestly I wouldn't mind if they skipped out on giving us new stages and instead did renovations to the existing ones currently in game. Like what the did with Mainstage and Shellendorf in 2. Maybe they can start with Mahi-Mahi and Mincemeat as a start. Of course, that's
if
they decided to revamp the current stages.
For weapons, I really would want a new Tri-Stringer variant. I've been using it a bit recently and I think it's a lot of fun to play, but Toxic Mist is so bad I desperately want anything besides it. I would like an
Autobomb/Trizooka
kit. Something a bit more aggressive than what we currently have. We ought to get something new with Crab Tank as well, as no new ones have been added since launch. Good candidates would be Octobrush or Blaster imo. Octobrush Nouveau could be
Squid
Beakon/Crab Tank
and/or Custom Blaster's being
Toxic
Mist/Crab Tank.
I know some people probably wish to see less tanks around, but I just want to see some more variety. Especially with a new special that, from my point of view, is one of the coolest they've added to the game.
So what do you want to see out of the season? Do you have any thoughts or ideas?